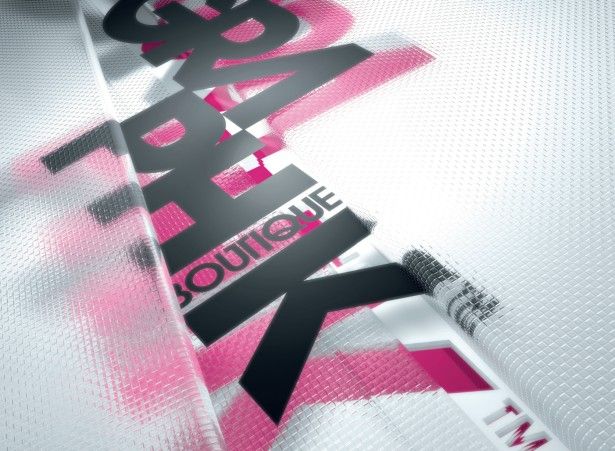 Creating unique and memorable typography effects is a true art that often eludes graphic designers. Try out this these top typography tutorials today to add some variety into your text portfolio!
3D Type
Make your typography really "Stand Out" with this incredible 3D text tutorial. Using Photoshop and Cinema 4D, graphic designers can take normal, flat, 2D text and make it virtually pop out from the screen. Like many other ComputerArts Tutorials, this one is available as a downloadable PDF, along with the necessary support files (.zip). It's a pretty impressive tutorial with some fantastic results, perfect for logo designers and other artists!
While we are on the subject of 3D text, let's take a look at one other cool effect. Ever seen neon light text and wanted to make it yourself? Now you can with PsdTuts sweet 3D Neon Light Typography tutorial. They also provide the helpful source file, allowing designers to see the different layers and effects applied in Photoshop.
This tutorial is perfect for the flower power children inside all of us (or some of us!). You'll need some stock images of flowers (or just use your own if you have a nice selection) plus Photoshop to conquer this tutorial.
Using Photoshop and FontLab Studio, you can create your own hand drawn font. This is a great way to get a unique font that is truly one of a kind. FontLab will do most of the grunt work for you, allowing you to whip out some creativity pens and get to work! Grab the PDF for this tutorial and start right away!
Ever wanted to create your own 'dripping' graffiti-style type? Give it a shot with this DeviantArt-hosted tutorial, from user Faeriedreamer. You'll need Adobe Illustrator CS+, along with a font to manipulate. It's rated as 'intermediate' difficulty; so most users should be able to handle it.
Want a retro, grungy poster complete with fitting text? Try this fun Photoshop tutorial to create one today! The finished result is really impressive and the techniques learned from this tutorial should help you on future projects all across the board!
One of PsdTuts best tutorials is their ornate text typography tutorial. You will love the finished product of this amazing effect, with some truly exotic and impressive text effects at the end. Give yourself plenty of time to go through this one, as it is pretty advanced.
Who doesn't like a little slime in their fonts? Throw down with this top typography tutorial on creating 3D-ish goo text, perfect for the latest horror movie font!
Wanted Poster with Bullet Holes
Howdy, partner! Saddle up your horses and lasso this Western typography tutorial, complete with smokin' bullet holes and classic wood effects!
Want some similar to the previously-mentioned 3D Type tutorial, but with a little more 'bang?' If so, then check out this crazy tutorial on creating 3D exploding text, also using Cinema 4D with Photoshop. I'm loving the power that resonates from this design!