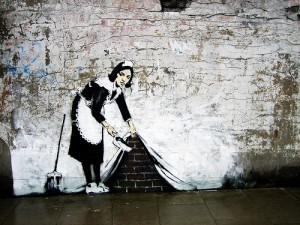 As designers, we are constantly on the lookout for quality inspiration. These kinds of display-only artwork pieces are the fuel to our engines, keeping us motivated to best our previous efforts and learn from those already producing masterpieces. And though most of us have a few choice sites we like to troll to look for such petrol, the Internet isn't the only location you'll find quality inspiration. In fact, believe it or not, you might find ideas you like in just about every aspect of life. Don't believe us? We didn't think you would. So without further ado, here are but a few of the unusual places you might someday find true, genius design inspiration.
Public Art: We know, we know. If there's one thing most metropolitan people like to complain about most, it's the public art. However, public art isn't just limited to those hideous sculptures in the park. No, we also clump such widespread areas as graffiti and murals into the category. And if you're like us, you're liable to see about a dozen such examples on the corners every day. Street art and tagging is a great way to find inspiration for our medium, as both try to communicate through typesetting and artwork a central message. What murals work in your area? Better yet, what graffiti sends the clearest message, and which sets don't say much at all? Turn your daily walk into pure gold by thinking about these things, and we promise your designs will improve five fold.
Textures and Colors Among Us: Another daily bread and butter for us is the abundant realm of texture and color. Our lives are so inundated with both of these that it's a real shame we've become so oblivious to it. Look at your clothes right now: Do you see all of those tiny fibres, each drenched in its own unique color? How do they work together to create a cohesive form of design? Isn't that just about the coolest thing you've looked at all day? And best of all, both texture and color surround you no matter where you look. In this way, design inspiration can come from something as mundane as your curtains, or as cute as your kitten's fur. Look around you, take lots of pictures, and sketch like mad. The world is (literally) your oyster.