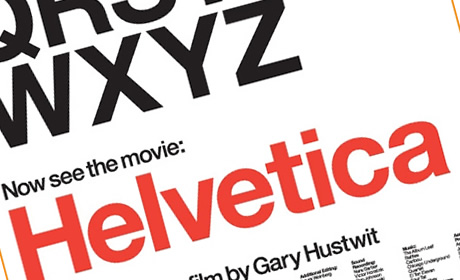 There is no use in denying the truth: graphic designers love their fonts. While "worship" may be perhaps too strong of a verb to use to describe the level of affection felt towards beloved typefaces, the art of typography certainly has developed a rather a type (no pun intended) of cultish culture. From this obsession with typography have arisen various films devoted to the topic, and the following is a list of several inspirational (and informational) videos that any graphic designer can love and appreciate.
1) Helvetica: A full length film focusing on the typeface of its namesake, Helvetica has been shown in film festivals all over the globe. Described by Time Out as, "a gleefully engaging investigation into the world's most ubiquitous typeface…" this documentary style film explores the history of the making and marketing of one of the modern world's favorite fonts. Released around the 50th anniversary of the creation of Helvetica, the movie also includes interviews with designers such as Massimo Vignelli. While this film is the perfect choice of informative entertainment for any graphic designer or typography lover, it is also lively and interesting enough to absorb the non-artistic audience as well. Originally shown at selected cinemas worldwide, Helvetica is now available on DVD.
2) Typomania: A short film perfect for the purpose of garnering information on the importance and influence of typography, Typomania was produced in the 1980s by the BBC with typographer Erik Spiekermann. While the quality of this film is certainly not up to par with modern standards, the information presented therein is still applicable, and if the modern viewer can overlook the fuzzy film presentation and the oh-so-old school soundtrack, then he will be able to enjoy this movie. At under ten minutes long, Typomania is available for free online through a variety of sites including here.
3) Letterpress Printing: Focusing on the process of actual letterpress printing, this film is all about the process of using linotypes and monotypes for printing work, instead of the more modern approach of simply using digital printing techniques. This short documentary breaks graphic designers into the more traditional world of letterpress typography, with methods similar to those used in Gutenberg's day. While the film does not attempt to argue that this method of letterpress printing is better than the modern alternative, the film does present its audience with a glance into the unique, ancient process that provides customers with 3-dimensional quality to their printing needs. Letterpress Printing is available here online.