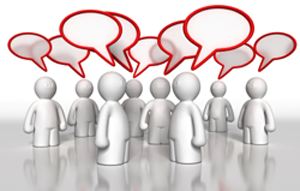 As more and more designers start turning to crowdsourcing websites to seek employment opportunities, and more and more companies start seeking their designers via crowdsource websites, any graphic designer has to sit back and consider this new form of employment. More experienced designers might view crowdsourcing with skepticism while young, newly emerging designers see it as the perfect opportunity to try out their newly developed skills. Here is a quick overview of some of the pros of working on a design project through crowdsourcing.
*Equal Playing Field: While crowdsourcing may not place you entirely in an equal playing field with all your contemporaries, it does even out the scores of experience a little bit. Crowdsourcing allows the total newcomer to the world of graphic design as good a chance of winning a design competition as a seasoned graphic designer. Unlike many job markets where years of experience are needed before you can find a decent job, crowdsourcing lets anyone try their hand at design competitions, whether experienced or not.
*Choosing Your Own Hours: Since most crowdsource jobs are freelance/work at home projects, you really get to choose your own working hours, instead of sticking to a regular 9am-5pm work schedule. While an organized, structured self-implemented schedule is always probably a good idea for actually getting projects accomplished, crowdsourcing lets you work however late into the evening (or early in the morning) as you jolly well please. This is perfect for designers who find that their greatest moments of inspiration hit them long after normal office hours have expired for the night.
*Flexibility of Commitment: Only have a few months off of school before the next semester starts up? Crowdsourcing is a great way to stay busy and (somewhat) employed during those months because it allows designers to choose their own periods of commitment to projects. When many industries aren't hiring summer employees because they don't consider their short time commitment as worth the training investment, crowdsource competitions are wonderfully flexible for start/end dates.
*Building Your Portfolio: Whether you win or lose competitions, your portfolio and knowledge of graphic design will increase and benefit greatly. Never delete any completed project; save it for possible incorporation into a future project or use it as a reference point to see how far your designs have progressed.