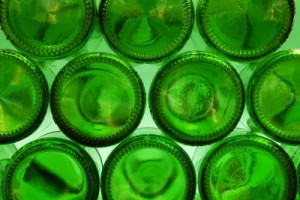 In the modern world we are inundated with reminders of the full range of microbreweries and distilleries in existence. We can't go to a bar or restaurant without seeing several examples of striking label and packaging design. With that in mind, we've become extremely adept at spotting what works and what doesn't work within the world of beer label design. So if you're searching for valuable tips to kick start your career in this growing industry, you've come to the right place. Read on as we share our top tips for aspiring designers in the beer industry!
Unify the Labels: Straight out of the box, beer bottle designs usually have a large, lower label with a smaller label that wraps around the beer bottleneck. You can use this dual label style to your advantage.  Make the most of the design real estate that you're given by making sure the lower design compliments the top part in terms of color scheme and logo placements. If you can create a design that spreads out across both of them, this will create an even more striking impression. Use your individual flair, but ensure the design flows simultaneously and creates a distinct and memorable impression on the bottle.
Be Quirky: We've all seen the Guinness label, with its stoic single colors and intimidating "established" date, reminding us of the strength and longevity of the brand. When creating a new design for your client, avoid attempting to emulate such a strong and memorable branding. A new microbrew or beer range simply won't have the prestige or the instant recognition of older, more established brands. What you are going to have, though, is the chance to be original and quirky with your designs. You brand has no history so your design can be as new, fresh and daring as you like. We often remember the labels we see on bottled beers not because of the skill of the designer but simply how entertaining, memorable or funny they are.  Including a funny slogan or proverb or an engaging piece of comic artwork, for instance, can make your design quirky, striking and memorable.  Beer can be a fun way to spend time with friends, but it is also complex in the ingredients used and the various ways it can be brewed and manufactured. Incorporate these elements into your logo design to entertain and engage consumers. Persistence is crucial too. If your first design doesn't satisfy, head back to the drawing board and try again. Perseverance will win in the end !