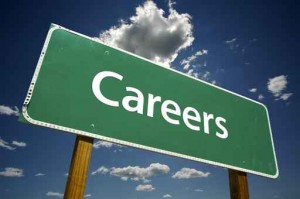 No matter how you slice it, getting into the business of graphic design takes determination, skill, and effort. No matter if you're shooting for the elusive (but totally freeing) job of freelance designer, or if you're looking to accomplish employment at a larger firm, getting your foot in the industry door is a real challenge. However, don't think your chances are completely limited! You do have options, and if you're willing to work hard and develop real flexibility in your skill sets, you can easily find a job at some genuinely cool locations.
Each of the job descriptions listed below are a great way to learn a lot about graphic design, and are completely attainable no matter what your level of experience. Again, with a little elbow grease and some work initiative, any of these ideas will help you to reach newer, and bigger heights.
Printing: No matter what brand of designer you are, most of your work will eventually land here, at the printers. With that in mind, learning the insides and outsides of print design is a great way to learn a lot about design itself. By apprenticing yourself with a printer, you have the opportunity to immerse yourself in other designer's works, including adjusting them to meet print standards. This is a valuable skill, and one that you an take to a future career in pure design, or to other printers. Printing is marketable, on-the-job, and entirely attainable at the entry level.
Marketing and Adverts: This industry is potentially even linked to the one we just mentioned. Working in the realm of marketing and advertisement could mean creating print advertisements (using those skill sets from number one) designing the materials themselves, or even just marketing produced materials in a pure sense. Either way, no matter what end of the branch you're on, you're likely to be working with produced projects, constantly steeping your hands in solid work.
Fashion: We admit, this one might be a little harder to achieve as an entry level designer, but it is possible. Not only that, but if you can find a job working in fashion, it will seem like bootcamp for your design sensibilities. No other field requires as much aesthetic vision or understanding of trends and hip design. It's a battlefield out there, and fashion is at the forefront.