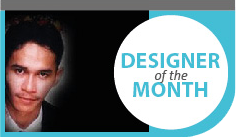 Each month, DesignContest will choose one of our successful, talented designers from around the world to showcase in our blog. It's our way of showing appreciation for the dedication and contribution of our Designer of the Month, as well as honoring the skill and creativity our top designers possess.
Give your congratulations to this month's featured designer – Morabira!
A member of DesignContest for over 5 years, Morabira is an Elite Designer from Malaysia. He has used his creative talents and skill to make his way to our top designer position with 17 gold medal wins!
DC: What is your favorite thing to design and why?
M: Logo and font design, I like thinking and drawing challenges…and these two (logo and font designing) have to combine both thinking and drawing. For logo designing, the thinking challenge is how to combine few aspects or objects in a single simplified drawing… For font designing, the challenge is to find a design motif to make it as unique as possible from any other font.
DC: What would you say makes you so successful at DesignContest?
M: I believe in being honest to my ownself. I would rather not start any design if I feel that the idea is not good enough. I would rather not submit any of my design if the design do not satisfy me. It is nice to have a place such as DesignContest for designers to fast improve their talents and for clients to ensure they get their best designs.
You can visit Morabira's profile and portfolio at: https://www.designcontest.com/designer/morabira
Keep up the great work, Morabira!