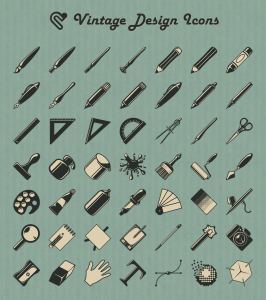 What could be better than a great set of designer icons? A great set of FREE designer icons!
DesignContest.com has developed a great new series of designer icons featuring the design tools you're most familiar with. The sets include vector icon images of a paintbrush, paint roller, eye dropper, ink well, ink splat, pens, pencils, easels, and even a pantone color book and a pencil sharpener (remember those from the good old days?) and many more familiar art & design related icons.
There are two great sets to choose and use from: The first set, Vintage Design Icons, have a vintage, old-timey feel to them. With their vintage look and style, these icons will fit perfectly into your classic inspired designs. To view and download the Vintage Design Icons, click here.


The second set, Outline Design Icons, are the same art and design tools created with a simpler, outlined style that will be a perfect fit for your modern or contemporary graphic design project. To view and download the Outline Design Icons, click here.

The icons are free for your use in any graphic design project of your choice, personal or commercial, including web design, blogs, templates, and print design as long as DesignContest.com is credited for their creation. Be sure to read the terms of use before downloading.
Remember, DesignContest.com owns the copyrights to these icons, so they shouldn't be used in any logo designs, or other designs where your client will need to copyright the work. The icons may not be resold, sub-licensed, rented, transferred or otherwise made available for use.
We hope you enjoy these awesome free icon sets! Please give us your feedback, too. We're working on creating more useful and cool sets of icons for our members, so give us your special requests!