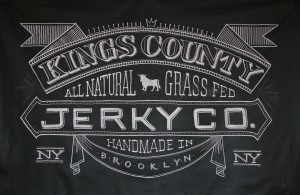 Wondering what's happening in the wonderful world of graphic design, but honestly don't have the time to peruse all of your favorite designer websites? Don't worry! We've done some of the hard work for you and have got you covered for some of the top/most exciting news of graphic design today. Check out the links below for quick inspiration, encouragement, or tutorials for your next project.
Sweet Chalk Art: Perhaps this doesn't fall into the category of strictly digital graphic design, but Ms. Tanamachi's phenomenally amazing chalk art is definitely worth mentioning. For the sheer beauty of the "typography" alone, this lovely use of chalk as a medium in a variety of hand-drawn fonts can be inspirational for any graphic designer. Notice her use of large and small fonts and her clever filling (or use of) negative space in her designs.
Free WordPress Themes: Thanks to Smashing Magazine, this great article features a list of new free WordPress themes for 2011. Most mentioned themes include links to demos for projects that use the themes, as well as brief descriptions of each theme. While this article is certainly substantially long enough that a quick scroll-through probably won't suffice, Smashing still has done all of the hard work for you by compiling this useful list of themes all in one place.
Shooting the Less-Than-Perfect: Ever worked on a photo shoot with models who are less than perfect? Check out these great tips on ways to minimize the natural "flaws" of your subjects. Completely practical and affordable, these bits o' advice can help you spend less time editing once a photography session is completed.
HDR Galore: Finally, a list of 10 stellar HDR programs for you to explore and experiment with at your leisure. Since this list is really just that—a list—and lacks much commentary on each individual program, a quick read-through of some of the comments posted at the end of the article should provide better insight into the pros and cons of the various programs mentioned.
And finally, one last item—mostly just for fun.
Best Cookie Package Ever: The creative genius behind the graphics of this snack package definitely deserves a few celebratory high-fives, pats on the back, and maybe even some money thrown at his feet. The clear packaging/use of the cookie as the afro is beyond brilliant—and oh, oh so fresh.