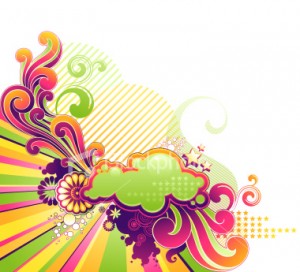 Mm, retro! It's all over the place these days, regurgitating old badge style icons, unique fonts from decades gone by, and ye olden ad slogans. With that in mind, more and more clients are clamoring for retro designs within their own identities. This means we, as designers, have to scramble to find the pieces to fit together a classic puzzle: Fonts, logos, color palates, textures, all of it needs to be considered. That means a lot of web browsing and (potential) headaches.
To help smooth out the process, we've compiled a list of free, commercially viable fonts for you to use in your retro designs. All of these come unattached to any sort of copyright, so stride without concern, you budget designer, you! No one is going to sue you, and your clients will thank you.
This one comes with a Cuban flavor that we're particularly fond of. Check out the preview image for an idea of how to use this retro gem. Lots of cafes, papery textures, and dark greens would do well with, not to mention an attractive pin-up as in the preview. It's an uppercase only font so it's fantastic for headers and footers, but not body copy, so much. You could get away with Habana in side-bar use, as well.
Are you looking for a science-skewed 1950s font to accent a snazzy design? If so, you should check out Geomancy. This font comes in both a wireframe light and a full-bodied version that will go well with a multitude of designs. As mentioned, it's perfect for something that needs a professional edge, but also a golden age feel. Use it with some mid-century pastels, and you're good to go!
If you need a font that's similar to a 1970s nightclub sign, but also has an executive feel, this is the one for your design. It's got a sans serif glory to it, with long lines, tall x-heights, and several different typesets. There's a bold for headers and footers, as well as an italic flavor. Not to mention the condensed light edition that will go well as a sub-header or emphasized section.
That's all we've got for you today! Feel free to interlock this in a myriad of ways, drawing on each individual timeframe to achieve a uniquely retro feel that glistens, shines, or exudes professional design.