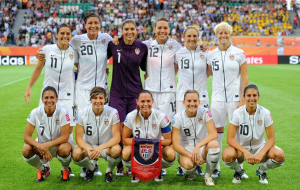 With the dramatic final of the Women's World Cup 2011 now in our past, the attention of the world to the significance of soccer/football/futbol as a unifying force for today's society has only increased. However, it is not just the awareness of soccer (and the now-famous women on the USA's team) that has people buzzing; the uniforms ("kits") of the players have also caught people's eyes. That said, the graphics and overall style of these uniforms warrant attention from any fashion interested graphic designer. Continue reading for a brief analysis of some of the most conversation-striking jersey's out on the field this year.
USA Women: The simplistic and yet confusing design of their jersey this Women's World Cup definitely had many of us asking, "What is that?" More specifically, the black pseudo-zipper running down the front of a pseudo-v-neck shirt was definitely confusing for anyone. With a design with simplistic graphics like this, however, it is obvious that the focus of the shirt was meant to be on the fashion statement, rather than the graphics. Exactly what fashion statement that was is still up for debate. No matter what, however, the designers of this jersey can be sure of one thing; there's not another like it.
French Stripes: Classy and what one might expect from a country infamous for a focus on fashion, the newest French away-games jersey is another jersey that will be turning heads this year. With sleeves a bit longer than a typical t-shirt's, the design of this shirt, however, is not really on the cut of the shirt. Instead, the classic-looking thin blue stripes on a white background create the appeal of this jersey, which is truly unique for a sport where the majority of stripes come in the thicker category (see: Argentina's men's jersey, Barcelona FC's jersey, Inter Milan FC's jersey, etc.). A truly stand- out shirt simply because of this difference in stripe width, the French away jersey holds its on the field.
Seattle Sounders (MLS): There's really only one word to describe this highlighter- influenced kit: bright. This outfit relies on color instead of any fashion design/cut or graphics to set it apart from the rest of its league.  Highlighter yellow/fluorescent green for these jerseys (and shorts and socks) is enough to almost make watchers of the games need sunglasses to protect their eyes. Proof that color really can speak for itself, these special friendlies/whatever -games -they -want -to –use- them -for jerseys are unmistakable from miles away.