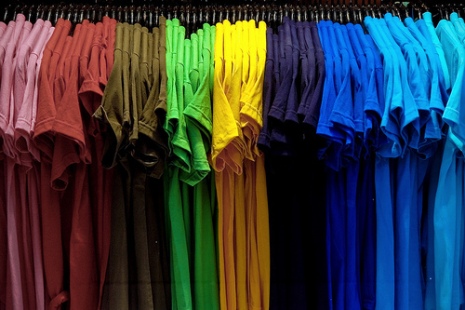 Looking for some graphical inspiration for your tee shirt designs? There are loads of websites showing off their great tees online, but these top three really take the cake. Are you also eager to enter a tee shirt contest and win cash? Give it a shot as well with these trendy tee websites.
Woot Shirts
Under the umbrella of the awesome Woot family of websites is Woot Shirts (also known as Shirt.Woot). It's a Deal-a-Day website with two types of tees available on different days-community contest tees and selected tees from popular artists. If you are looking for a mammoth supply of inspiring tee shirt designs, look no farther than the weekly Woot Shirt Derby. It's a themed contest with hundreds (if not more) entries each week, viewable here. Themes include all sorts of different contests; this week's topic is Zombies! Users get to rank and vote on designs throughout the week and the top three are chosen as winners. Prices include a large amount of cash (see website for details) plus reprint and sales bonuses. It's an excellent way to get started in the online custom tee industry and a great website to see a huge selection of creative tee shirt designs.

TeeFury
TeeFury is in a similar vein to Woot Shirts is TeeFury, a one-day-one-deal tee website. However, it doesn't feature a regular contest for artists. Instead, artists are usually selected by the website's curator and they feature a custom design for 24 hours, selling for $10 plus shipping. I enjoy checking out TeeFury regularly, as their constant changes in featured tees offer quite a lot of inspiration and interesting elements for graphic designers. Plus, their featured artists usually include a link to their own portfolio, further providing ample ground for graphic design inspiration. Rock on!

Threadless
Threadless is the king of unique tee shirt websites. They have one of the largest-scale contests for custom tee designs, with hundreds of tees entered regularly. The community has evolved quite a bit over the years and it really takes a top-notch design to make it to the final selections of tees to be printed. Threadless is a fantastic website to go to and learn more about the overall custom tee design community, design inspirations and tips on shirt designs. If you are feeling especially creative, try your hand at entering their tee contests. If you are successful, you'll take home a whopping $2,000 in cash, a $500 Threadless gift certificate, and another stunning $500 in cash every time your tee design is reprinted for another batch of sales. That's some serious money and it definitely demonstrates the selling power of Threadless tees. Grab their templates and shirt submission kit here and get started on your own winning design today!