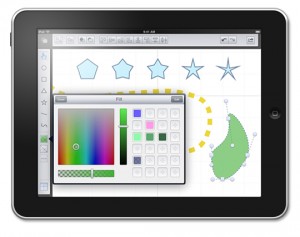 This is a continuation of the many popular graphic design related apps that are readily available for your iPhone or iPod Touch. These handy apps can offer guidance, inspiration, support, and further enhance your graphic design work and art related projects. All of the apps below retail for $4.99 or less, and some of them are even free of charge!
FontShuffle
This app offers over 650 different font groups which are then sorted out by visual similarity. Font recognition amateurs and professionals alike can easily discern 6 typefaces of similar styles within just a couple of taps through the app's easy to use navigation menu. What a great resource for selecting different fonts that will enhance any of your graphic design projects. The best of all is that this useful resource tool is free of charge form the iTunes apps store.
Paper Sizes
This app is basically what its title says – a paper sizing guide. This allows you to look up all the different types of paper sizes around the world and helps you configure your designs to international standards. Have a very beneficial resource at your fingertips for just a mere 99 cents from the iTunes apps store.
PixelPipe
What can be better than a great app that's free of charge? This app connects your inspirations and design with your personal social networking profiles blogs, and online hosting photo albums.  You can share your work with over 110 supported destinations from around the world, which is a great way to promote and support you personal designs and ideas, and for free too!
Sketches 2
This app enables you to keep track of your art and graphic design inspirations, notes, and sudden thoughts easily and conveniently at your fingertips. This is a great way to immediately put your ideas into motion without having to backtrack trying to remember what it was that you had through of the day before. Simply just jot down, draw, or scribble your ideas with this simple tool. This app retails fro $4.99 at the iTunes Apps store.
The Typography Manual
This app is the prefect tool for graphic designers. It includes a visual type anatomy glossary, a font size ruler, and a calculator, and plenty more of design related content. A great reference tool that is easily available and can be taken practically everywhere with you when installed on to your iPhone or iPod Touch. It retails for $3.99 at the iTunes apps store.