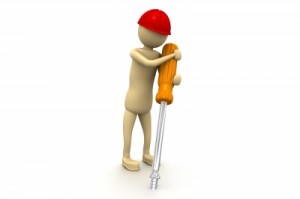 If you're a graphic designer in the modern age—especially a freelancer—we can only assume that you have some kind of online portfolio in the wing. Now, this might be as simple as a basic WordPress site containing all of your information. Or, it may be a full-blown static page bearing the hallmarks of your design style and a million and two quirks designed to convert clients. However, no matter what your site looks like, if you aren't taking the time to even out the most basic elements involved with a portfolio, you aren't likely to get the traffic you need to succeed. With that in mind, use our most basic (but essential) tips below to figure out how you can improve your design portfolio now.
Contact Form: Before you do anything else, make absolutely sure that you have a rock-solid contact form on your portfolio. In fact, we'd suggest that you make this area your goal. If possible, try to guide the user through the website toward your contact page. After all, you could have the single greatest portfolio ever seen by man, but if your users have no real way to get in touch with you, what have you won? As such, make the contact form simple, effective, and above all accessible.
Testimonials: The next step you'll want to nail down are the testimonials. You may not think they mean much, but take it from us: In today's Internet-ready world, nothing means more than a rock-solid recommendation from a previous client. Sure, you could write just about anything you want and put it up as a testimonial. But, if you choose to be honest and take the words straight from your clients themselves, we promise at least a few newcomers will be impressed by the content of these messages.
Social Media Links: You're going to want to use some kind of social media. No, you don't have to make this anymore than a basic Twitter page, but if you have no access of this sort at all, some of your clients will be put off. A lot of the work we do involves social media, and if we show no interest in it ourselves, we come across as lacking specific, expert knowledge. take it from us: Just don't do this.