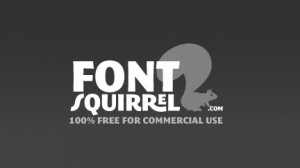 Recently, we took a look at a few websites that create bigger and better designs. However, we're quite done yet! If you're looking to improve either your workflow or the end-quality of all your web and graphic designs (or perhaps both), we'll be detailing a few more of our Internet staples including a few resources and tools guaranteed to kick your projects into high gear.
Font Squirrel: Need a font? If you haven't yet, we're just going to assume your designs are about as boring as a night out with Margaret Thatcher. When we create a new design, we always look for a font not currently in our collection that will fit the bill. This ensures that we're not constantly rehashing the same, tired old typefaces, and it also keeps us fresh and up to date. The way we do this is through Font Squirrel. The website offers an entire host of free-to-use commercially fonts that are absolutely exquisite. Better yet, the fonts are also categorized by the terms we use to design. Need a slab serif font for that beefy design? Hit up the appropriate section. It's that simple, and with several different font formats per typeface, you're guaranteed to find a match.
LogoPond: We'll be upfront with you. Logo design is perhaps our least favorite aspect of graphic design. Why? Because it's a nearly impossible feat that requires so much concentration it's almost herculean. However, that doesn't mean we pass off our successes. Accurately producing an incredible logo is a feat to be proud of, and should be celebrated on LogoPond. LogoPond is a collection of user-submitted logos that run the gambit. If you're looking to compare your work with others, find some inspiration for that project that's been giving you fits, or even just get an handle on what's popular and trendy in the real of logo typing, then LogoPond is your new best mate. You can perform specific searches for logo types, or you can just browse through the featured, new and noteworthy. It's an incredible balance, and by and far, we suggest LogoPond for any and all logo inspiration needs. You can even join-up and start submitting your own works for review!