Each designer knows that a great portfolio is the main tool in a struggle for the customer. The way your portfolio view organized is extremely important. Actually, each detail is important. Having clear and professional designs is great but showing your artworks to the whole world in a proper way is necessary as well.
We are proud to announce brand new designer profiles. Useful share options we've added along with remarkable view will help you in better communicating with clients and friends. You are a creator! You have your own soul and feelings! You have your own design skills and approaches! New "About me" section will make your profile more personal and emotional. Average star-rating based on real ratings will show clients your professional level. Welcome to your new profile!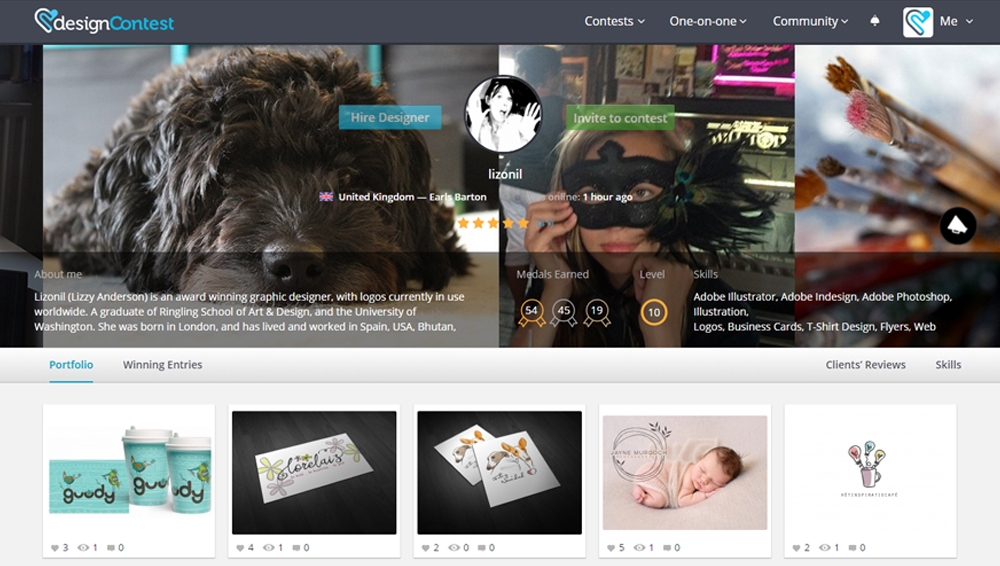 Skills
Are you a website designer? Or maybe you design amazing t-shirts? Or business cards? Add your skills to your profile showing the field you are good at and present yourself as a highly qualified professional.
Import from Behance
If you have Behance profile with great artworks worth attention you can easily import  them to your DesignContest profile in several clicks 
This useful  option will help DC newbies to build their portfolio having no contest entries yet.

Clients' reviews
Along with an excellent portfolio we have added a review tab with all testimonials left by clients who used to work with designer in One-on-one projects. From now on clients can not only view portfolio designs but also understand how reliable and responsible designers are.
Profile customization
We know that environment influences the final result and it is better to work with eye-friendly and flexible systems. Express yourself and customize your profile accordingly to your tastes. Let everyone see your individual approach even in details.
New one-entry-page
Each design of new profile has a separate page with dozens of useful options helping with promotion of you as a professional. Share your designs with friends on your social pages, count likes and views and receive valuable comments. Have all your feedback in one place and boost your chances to be hired in one-on-one project.
Custom tabs
You can add additional tabs to your profile and arrange your portfolio according to your professional skills and experience.