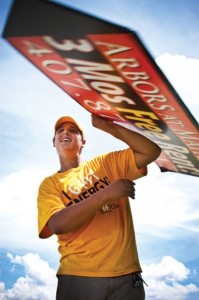 Just the fact that you're reading this blog says a lot about your desire to succeed in your small business. We want you to succeed too, and that's why we've compiled this list of 5 easy, creative, and low-cost ways to promote your small business:
1.       Get Your Feet on the Street!
Word of mouth is one of the single most effective forms of promoting your business – so, make sure your community knows you're there so they have something to talk about! Visit local libraries, churches and restaurants to post flyers. Leave business cards at checkout counters or in your doctor's office lobby (with permission, of course!). Or, consider hiring a sign-spinner or costumed mascot to wave at passersby. The point is to let members of your community know you're there. I can tell you where my local tax preparer's office is located now simply because of their Statue of Liberty mascot that waves at me each tax season!
2.       Sponsor Events in the Community!
It's proven that people like to support businesses which they feel are charitable or support a cause they believe in. Consider sponsoring a local event such as a 5k run for breast cancer awareness. Become a sponsor for your local kid's baseball team. Donate products or services to a local raffle. Volunteer at your city's annual clean-up event – and be sure to have your employees wear a t-shirt advertisement for your business in case of local media coverage!
3.       Make Your Message Cohesive!
Make sure you've developed a cohesive brand identity, and then display it wherever you can – t-shirts, car magnets, and print materials that all share a cohesive brand identity and message will make your small business more recognizable and trustworthy.
4.       Communicate With Your Customers!
Consider adding a blog to your website and update it regularly. Not only will this help with search engine optimization, it can make your website a go-to for relevant information related to your business or industry. Invite your customers to join a mailing-list and send monthly newsletters, either by post or email, to keep your business fresh in their minds.
5.       Take Advantage of Free & Low-Cost Internet Marketing!
The internet is a premier source for information about local and small businesses. Make sure you've established your free Google Places Page and ask your repeat customers to rate and give feedback. Add your business listing to internet directories – just do a Google search for your businesses type directories (example: pet store + directory) and list away! Many of these directories will list your business for free or with a simple link exchange. Set up a Facebook fan page and Twitter account and invite your customers to "Like" or "Follow" you, then use Facebook and Twitter to make announcements and special offers instantly available to your customers.