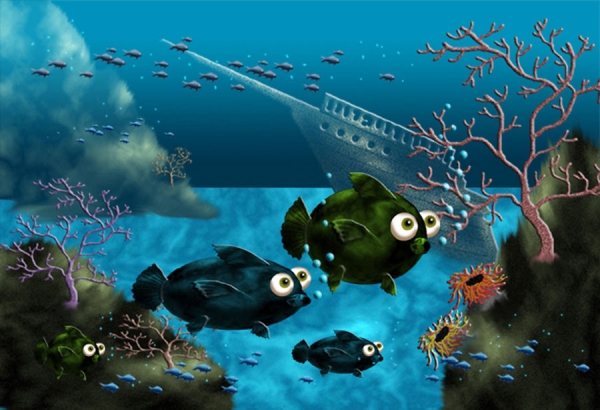 Do you love fish and aquatic designs? How about jellyfish or underwater shipwreck scenes? If so, then boot up the latest version of Photoshop and tackle these swell fish graphic design tutorials today!
Here is a simple yet appealing aquatic image, done in Photoshop. Fans of Finding Nemo will enjoy this little design, with its bright and cheerful colors. The tutorial is just one page and isn't too time consuming, yet the final result is really nice. Check it out!
I love intriguing photo-manipulation designs and this awesome image is just that. Leaping fish, coming right out of a sparkling wine glass, just pulls the viewer into the image! It is rated as a "hard" (2 hours) tutorial, so beginners and first-time Photoshop CS2 users should probably tackle something a little less intensive. This tutorial is an astounding 8 pages long, but it packs in plenty of useful images and instructions to help ease the design process.
Koi are one of my favorite fish types. Many people don't know that they are basically common carp, just bred selectively for their colors. Koi in a well-designed pond complete with flowing waterfalls, lily pads and ornamental bridges make for delicious eye candy. Create your own koi designs with this wondeful Koi Photoshop tutorial. It's a really well-done tutorial and should be doable, even by artists just starting Photoshop.
Ever wanted to recreate one of those awesome, under-the-sea shipwreck scenes, complete with awesome fish and coral reefs? I certainly have many fond memories of such images, seen in my scuba diving magazines and picture books as a child. Here's a great tutorial for you to make such an image from scratch, on Photoshop. The final result is considerably less photo-realistic than a National Geographic scuba photo shoot, but it is still a wonderful design! The tutorial is super helpful in not only creating this image, but in teaching beginners some of the basics of Photoshop as well.
Jelly Fish Delight, from the excellent KingTutz, is a wonderful, albeit tough tutorial for making some truly scintillating jellyfish-themed design. It's a little lengthy, but well worth it, as you can see from the amazing final results with multiple jellyfish, a tight logo area and lots of warm, aqua-glow infusions in the design. I really like how the dark gradient truly brings out this wonderful design! It may not be a true "fish" design, but it certainly is a great fit for any aquatic-themed design.