When you are designing for digital applications, nothing is more important than knowing how it will work and look.
Browser Shots can help you with one of those things.
The open-source app allows you to see and test designs in a variety of different environments.
What it does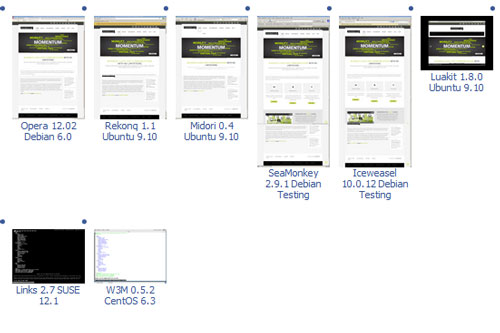 Browser Shots is a simple application. Type in a web address and see the site in different operating systems and browsers.
The project was started to solve several problems: Determining how websites look in other browsers and saving time for designers and developers because not everyone has older OSes and browsers available for testing.
Once a web address is submitted, it is added to a list of pending jobs. Computers running the selected browsers will open the website, take a screenshot and upload it so that you can review it.
The application makes it super-simple to see and test a website in a variety of environments without having to download and test every browser individually.
In addition to general browser testing, the site also allows users to narrow the results by what they are most interested in based on screen size, color depth, Javascript, Java and Flash. Each setting has a variety of options ranging from the default of "Don't care" to specific settings, such as eight screen size options.
To save and set presets you will need to create an account, which is free and easy to set up. (This is a good idea if you plan to use the site frequently.)
Best features

Support for multiple browsers – Linux, Windows, Mac and BSD.
Ability to select test environments is nice. Just click to add or remove browsers.
Support for multiple languages – currently 25.
It's not a feature exactly, but Browser Shots also features a nice web design gallery for inspiration. You can search based on keyword or color.
It's a fun research project to see what people are adding to the queue and where computers are working. According to the site, 67.2 percent of screenshots are generated at the Browser Shots facility, while the rest come from shared computers. From the queue, you can see what users are testing; it's an interesting gauge of what is being built.
Pitfalls
The interface is simple and not very pretty. Browser Shots is a great tool but won't impress you when it comes to design or interface.
There is no real support for mobile. Screen size options start at 640 pixels. Mobile browser shots would be a great feature.
You must create an account to keep your screenshots private. It's not a big deal, but something users should be aware of.
Pricing
Browser Shots is an open-source application and is free for all users. Access to the source code is also free.
Check it out
You can take Browser Shots for a test drive at http://browsershots.org. Contact the company via email at [email protected] for product suggestions or questions.