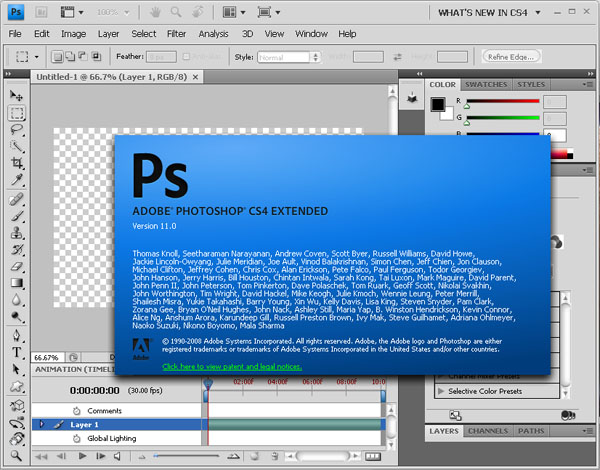 Several years back, when I was a wee little lad, I received Adobe Photoshop for my PC. My mind was too boggled at the vast variety of different options and tools, and I pushed Photoshop to the back of my mind and into the dark abysmal folder called "Barely Used Computer Programs." Then a beam of light reached out and shocked me when I stumbled across these three websites. Suddenly, I understood how to use Adobe Photoshop (well, sort of)! These websites are just some of the many resources that can help you master the art of using Photoshop and its compatriots, and I encourage you to read them, study them, and master them!
1. noupe
First off, there's noupe, a pretty trendy website for those who are interested in designing things and being creative. Noupe is loaded with tons of tutorials (including Video Tutorials) on how to use Photoshop and embrace your inner artist. While noupe doesn't actually host all of these amazing tutorials, it instead compiles them into nifty topics that you can navigate through and pick the one that you want to view. Then it links you to the tutorial that is posted on someone else's spiffy blog post. It's pretty simple and easy to use, and I totally love how the way the noupe works. I highly recommend it for someone who is in the mood for being a bit more creative than normal.
Secondly, we've got Photoshop Essentials, another snazzy Photoshop website. Photoshop Essentials is loaded with How-To's and tutorials on using Photoshop, and is by far one of the best websites for those who have just started tinkering around with Photoshop. Nearly all of the content is hosted on the website itself, which makes it pretty easy to find the focused Photoshop tutorial that you were looking for. Photoshop Essentials even has a FREE PDF eBook with "101 Pro Tips and Tricks for Photoshop," a must-have for the beginner Photoshopper. Overall, Photoshop Essentials is a spectacular website for those wanting to learn how to use Photoshop.
Lastly, Presets Heaven is a fantastic website for those of us who, along with using just the basic Adobe Photoshop, also use Adobe Photoshop Lightroom. First off, presets are nice shortcuts for those of us who don't want to manually change how the photo looks via hue, saturation, contrast, etc. Presets Heaven has a multitude of presets that will literally light up (or darken down) your photos. Some presets range from the simple ones that change a photo from color, to black and white, whilst others are a tad bit more extravagant and will paint a nice golden glow around the photo. All of their presets are free, except the things that are locked behind the door of their "PRO Shop." Presets Heaven not only has amazing presets, but it even has some great tutorials in using Adobe Photoshop Lightroom and also in photography in general.