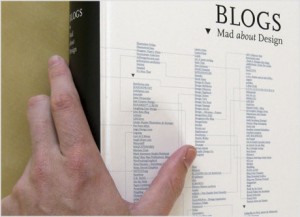 Are you at a road block and need some insight and inspiration for your graphic design project or website? Sometimes you just need a little refresher or a green light on new ideas from other fellow graphic designers like yourself, whether novice or professional. Here are some handy blogs to get your creative juices flowing.
London based designer, Ben Terrett, offers his two cents of creative photography, imagery, fonts, and designs that he captures in everyday life. Everything from letterheads, random bike stands, museum galleries, and so on, this blog and its posts will sure inspire you in someway or another. Â It just might even help you appreciate the common things in life.
The blog's name says it all. Posts chock full of everything typography related, you can hit up news, new concepts, and project ideas for all things font and typefaces centered.  This blog shows the latest font styles that other designers come up with, typographical designer events, and also, written media such as typographical magazines and featured articles.  The neat thing about this blog is that even the layout features all sorts of different types and styles of font in their given name so you can already garner ideas while simply browsing or scrolling down the main page.
Set up by graphic, web, and logo designer Jacob Cass, this is a helpful blog that offers tips and ideas for you rut in the road. It also offers insightful business and advertising tips to help jumpstart your graphic design related business or keep your current one growing.
Probably one of the most unique and fun blogs out there, this blog features a dad's art that he draws and designs on his kids' lunch bags. Not only is he talented, but it's inspiring as well. You could spend hours just browsing through all of the designs he has come out with and at the same time you can't help wondering what his kids think of it and what do they do with bags. Do they save it, because I sure would!
Who doesn't enjoy getting the scoop of celebrity dirt once in awhile? How about in art and graphic design form? This popular blog showcases all sorts of different satires and poking fun artwork of various celebrities while incorporating unique design and various art techniques and themes. Just like the "Lunch Bag Art" blog, you'll probably spend hours looking through all the art work that this blog has to offer and getting inspired all the same.