Nowadays mobile apps market is getting more and more  bigger and wider.  Here are some facts that may drive you to start using mobile apps:
1. There are 6.8 billion people on the planet. 4 billion of them use a mobile phone.
2. 25% of Americans use only mobile devices to access the Internet.
3. 90% of text messages are read within 3 minutes of being delivered.
4. 74% of smartphone users use their phone to shop online
5. 43% of marketers currently use mobile technologies another 25% plan to do so within the next 12 months, and 16% plan to do so more than in 12 months. Only 15% of marketers have no plans to use mobile technology.
6. Time spent on mobile apps is largely dominated by games and social networking.(49% and 30% respectively).
DesignContest team collected for  you these 7 cheatsheets on what you should do to   promote your brand with mobile app  marketing  and more…
1. The State of Mobile in 2015

Source: www.infographicportal.com
 2. Should You Build a Mobile App or Mobile Website?
Source: www.mdgadvertising.com
3. Seven Do's and Don'ts of Mobile App Marketing
Source: www.marketingprofs.com
4. The Evolution of the Almighty App

Source: www.marketingpilgrim.com
 5.Mobile Apps Usage Statistics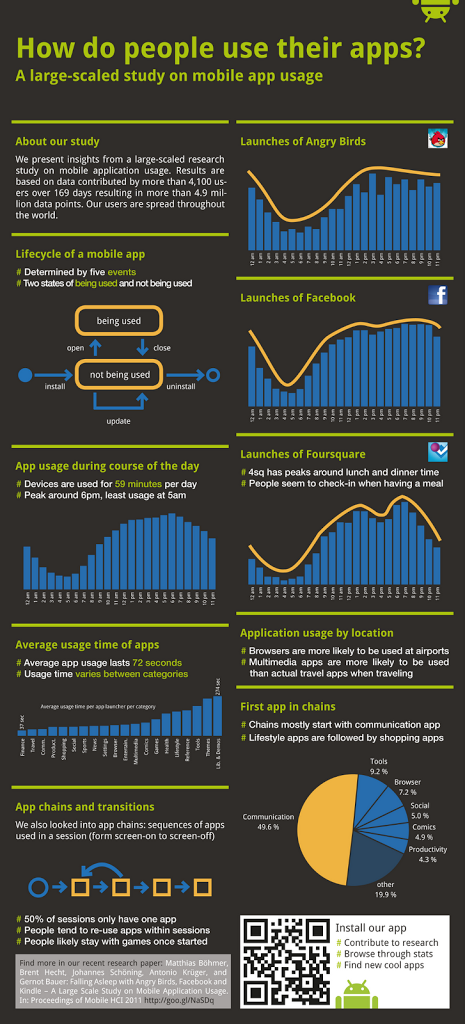 Source: www.mobile-marketing-blog.net
6. Compelling Facts About Mobile App Marketing

Source: www.visual.ly
 7. A Guide To Mobile App Marketing

Source: www.seanclark.com