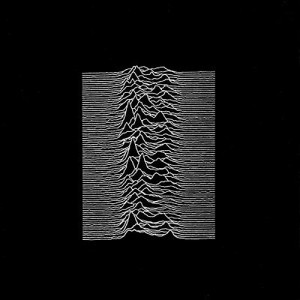 When you've got a passion for something, there is nothing better than having someone to look up to. Looking at heroes can really help you know what you want to aspire to. One of graphic design's greatest icons is Peter Saville. For those of you who have not heard of this highly reputed, innovative designer, he started his career back in the late 70s with little experience yet plenty of inspiration to create the album cover for Joy Division's first album, Unknown Pleasures (see image, right).
Recognised for his talents, Saville carried on working for Factory Records on more Joy Division's record sleeves and many other notable bands, including New Order. However, this particular album cover remains an icon of its own to this day, demonstrating the long life span that quality design can have. During this era of his career, he faced great controversy after Ian Curtis, the lead singer of Joy Division, committed suicide. Shortly after this tragedy, Saville's design for Joy Division's last album, Closer illustrating Christ's body entombed caused outrage until it was proved that the artwork had been done a few months before the death of the singer.
Moving onwards and upward from Factory Records, Peter Saville worked with DinDisc, Pentagram and eventually opened his own design agency, Peter Saville Associates. He's working with music legends such as Suede, Roxy Music, Duran Duran and Wham! Moving on from album covers, he went on to consult with Stella McCartney, Pringles and Selfridges.
Some of his more recent endeavours have included completing briefs from Manchester City Council and the England Football Team. Saville was asked to create a new visual and cultural identity for Manchester (his home town) in 2004. Perhaps even more impressive: he designed the most recent England Football shirt within a few days of receiving the brief to come up with some ways to introduce color to the shirt, whilst keeping it predominantly white. His highly creative, dynamic yet simple approach can be seen in the image below.
Following designers such as Peter Saville gives designers insight into what can be achieved in an individual's career with lots of hard work and inspiration. Looking at his designs, can motivate graphic designers to pioneer with original, avant-garde graphic design and to become one of the greats.