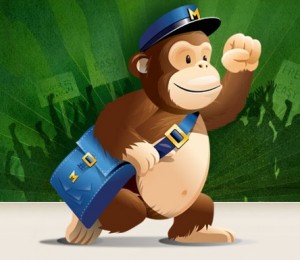 We like to bring you reviews and additional information about some of the tools and software that we use on a daily basis.  We're madly in love with a service called MailChimp, which has been driving our email graphic design newsletters for some time now. It's a beautiful utility for when you need to send out multiple emails. Not only is the service easy to use, it's also completely free of charge.
The Service is Free: As stated already, MailChimp is completely free up to a certain number of emails. Don't feel threatened by that limitation, however, as you can send a whopping 12,000 emails before MailChimp  starts charging you. That's a whole load of users and readers, and if you're like most of us, your numbers will likely be about a solid fourth of that. There's no shame in it, as it means you can continue to use MailChimp forever without paying a dime. And that's a pretty cool thing in today's world of monthly payments and service fees!
Ease of Design: We mainly use MailChimp because it makes creating HMTL emails a breeze. And we really mean that. Using the built-in templates we can pump out email designs in no time at all. Or, if we decide we want to code something on our own time using our computer, we can do that, too. All in all, it takes less time to crank out an HTML email with MailChimp than just about any other service we've used.
MailChimp is Sexy: We don't mean that in a dirty way, but the service really is hip. We love using it, and it comes with a tight community of people that are equally as passionate about using MailChimp. With that in mind, if you're looking for a quick and convenient way to send mass emails, take it from us and all the other developers that are using the service: It's the only way to go.