Our new website is not only about redesigning. We have also added some technical updates useful for both categories of our users, Contest holders and Designers 🙂

Due to some complaints concerning the speed of our previous site version, we decided to pay attention to this problem substantially. Now DesignContest.com is fast and has new full screen responsive design, works on all devices and in all browsers!
Translate function will let you better understand each other. It is applicable for commenting and brief.
Nobody would have access to your account because we have improved security system. All your personal data will be encrypted with AHCI technology.



We do care about the highest level of satisfaction of our clients. That is why we implemented a new system of easy launching and running the contest.
Common list of improvements:
We have expanded the number of currencies available for paying and now our clients can pay in USD, EUR, AUD, CAD and RUB.
Your brief draft will be saved automatically and will not disappear if you suddenly get connection problems in the middle of filling the brief.
Launching the contest, you can set more precise contest duration.
Our Privacy policy includes now a Nondisclosure Agreement (Private contest upgrade) in case you want to prevent any data access concerning your contest.
We have implemented a multiprize upgrade for those clients who have 2-3 favorites in their contests. Minimal amount for 2nd winner is $120 and $60 – for 3rd winner. In case of multiprize upgrade, the client receives source files for all three winners.
All design types are grouped into 26 categories. See the full list of design categories on our site main page.
Our new How-it-works page is intuitively understandable and has a better explanation of how DesignContest works.
Entries tab
Here you can see all designs uploaded by designers as usually. Now you can view certain designs by picking the option needed (1), filter designers (2) and sort your designs by rating points or by upload date (3).
Now you also have a bulk action option (4) to delete, comment or rate several designs simultaneously.
To pick a winner use the cup (trophy) icon (5).

We have also improved the system of commenting designers' entries. Now you can leave a comment directly under designer's entry with no need to go to Comment tab (1). Your comment will be duplicated in Comment tab and in One-entry-page too. If designer wants to know some details concerning brief requirement he can mark such comment as brief-related and you will easily see it among others.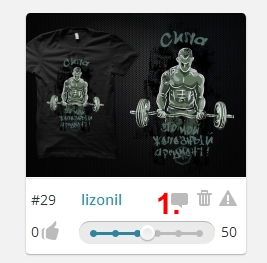 Our One-entry-page is now more functional
You are now able to leave comments to one certain designer hiding it from other designers (1).
You can add designer to your Favorites or exclude certain designer from the contest to prevent him uploading new designs (2).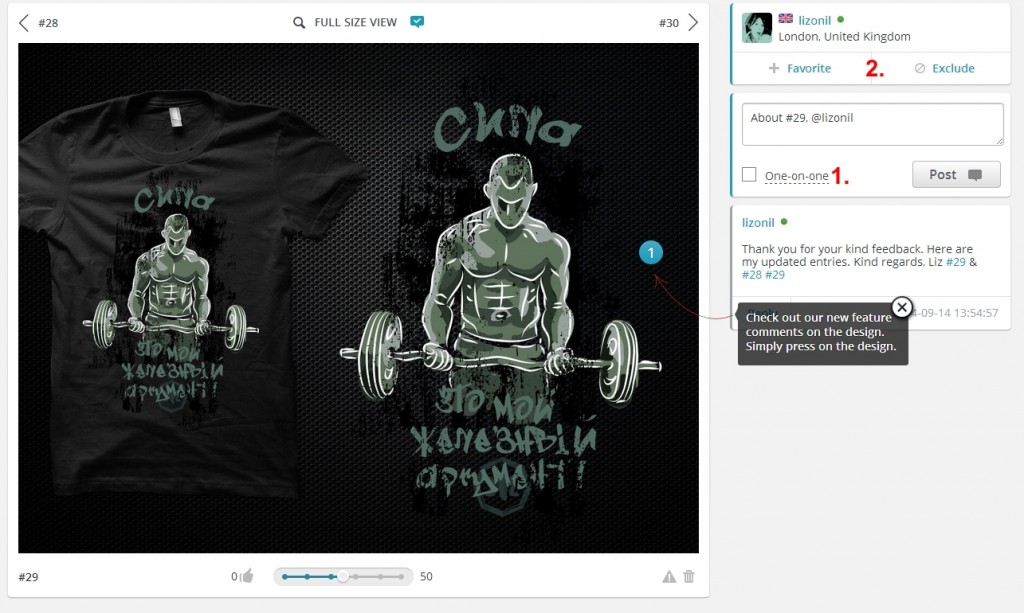 Designers tab
Here you can see the statistics concerning designers participating in your contest. You can add certain designer to Favorites or remove him from the contest. You can also invite designers from our TOP100 list to your contest (1).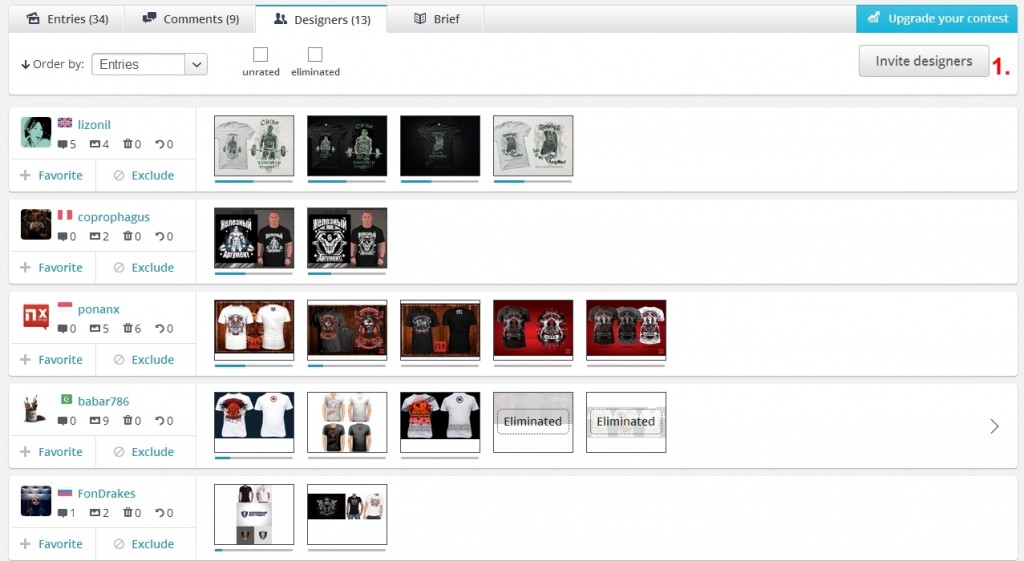 Brief tab
To edit your brief simply click on pencil icon (1).
Here you can also attach different images and files to your brief (examples of what you like or do not like, guidelines and explanations, etc.) and set additional options to your brief (slider, feature options).

Additional useful improvements and changes
There is no need any more to request Invoice from support team. You can see all your invoices in Me-menu/Billing and download them (1-2).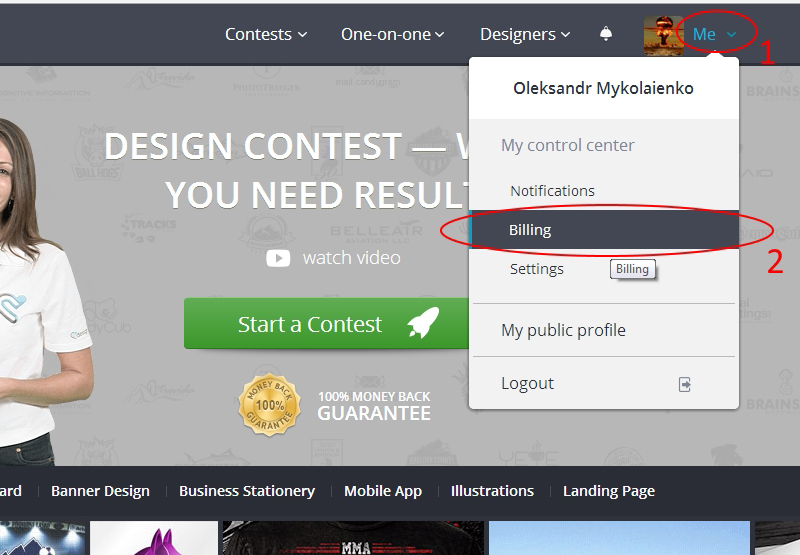 You can hide your profile from others. This option is especially useful for Marketing Agencies. To set your profile as hidden go to Me-menu/Settings.
You can hide your contest even if it is already finished.
New One-on-one projects
One-on-one projects were also improved. Â Now you are able previously to discuss your project with three designers at the same time and then choose one to hire.
Due to available adding designers to Favorites, you will easily find designer who won your previous contest.
Copyright Transfer is available for all designs. Nondisclosure Agreement feature is available. Â Designer can upload files during the project.
Now all One-on-one projects have a separate landing pagehttps://www.designcontest.com/one-on-one

We also have improved our site for designers to make their participation in contests easy and comfortable.
Uploading designs got additional upload, display and crop options.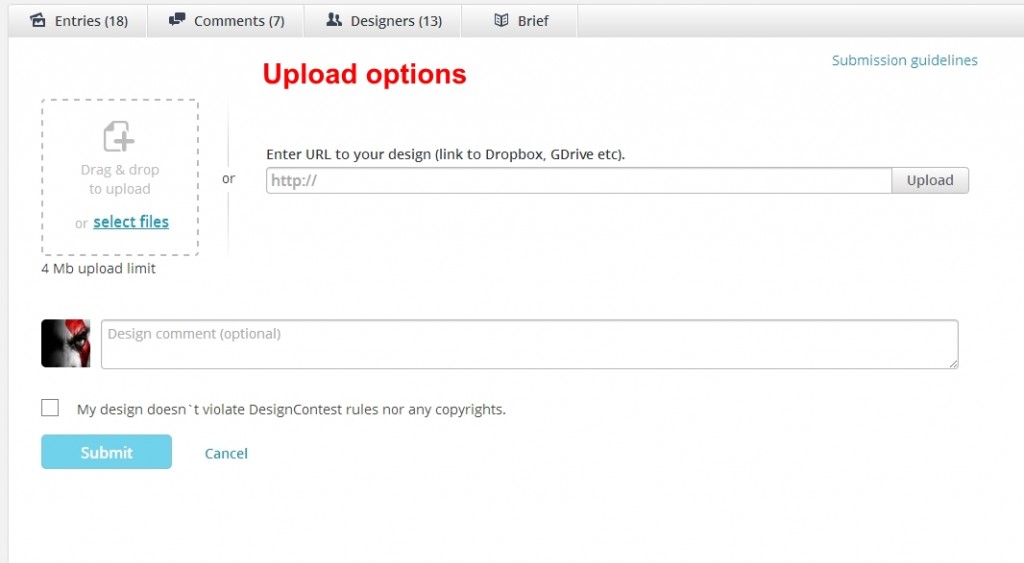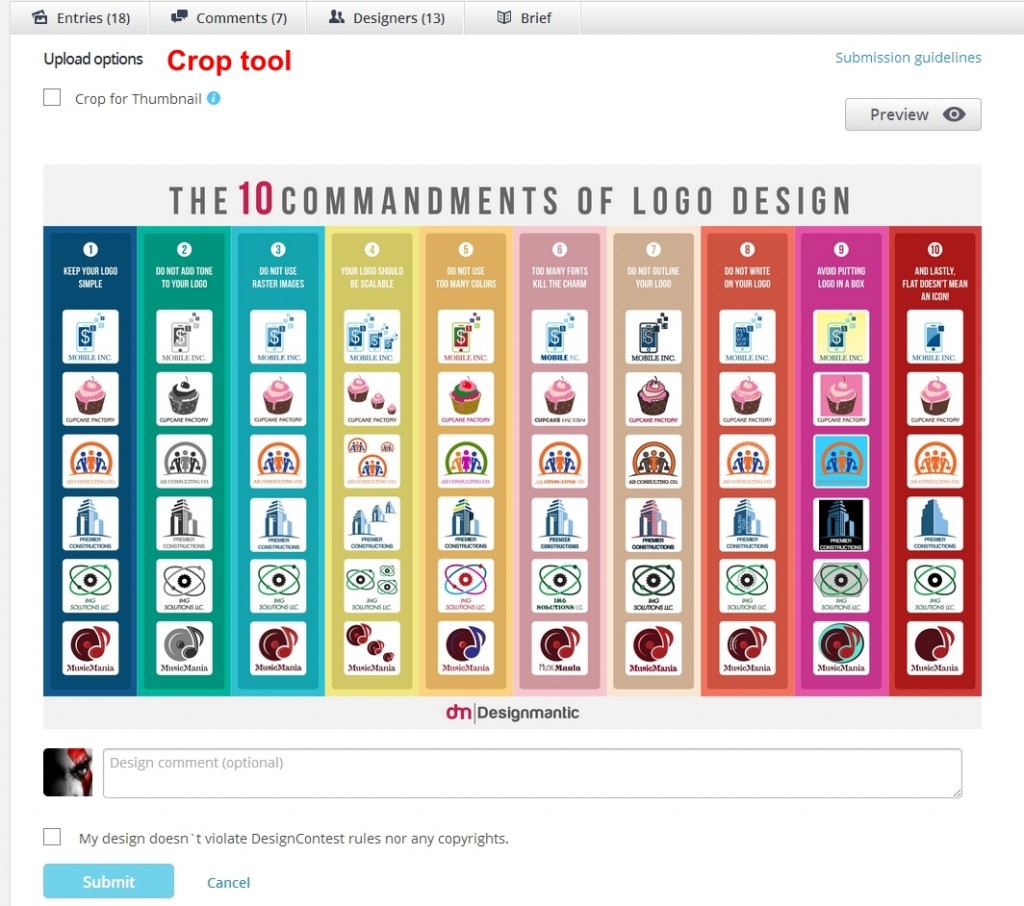 Logic and understandable Me-menu covers your Designs, Finances, Infractions and Settings.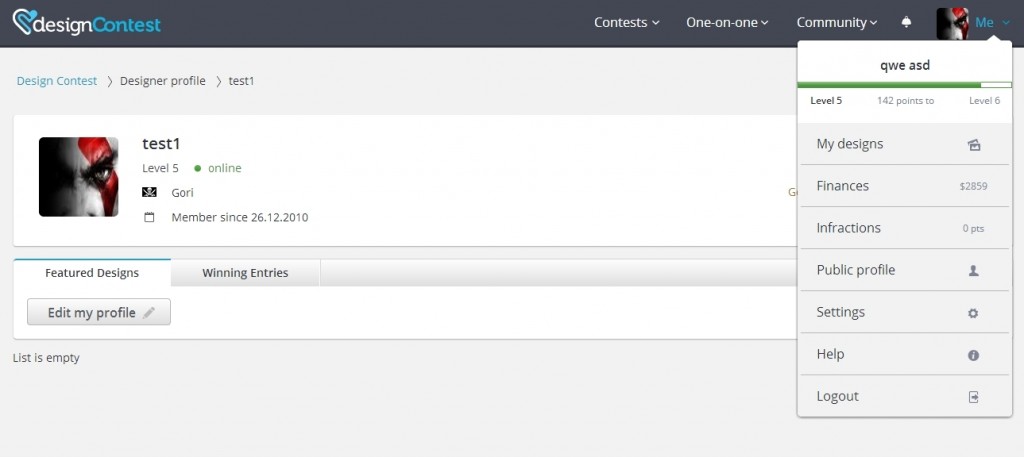 In My designs  you can manage all your designs in one place, withdraw them without any trouble.
Infraction  item allows you to see when it would expire and the reason why you received infraction.
In Finances item  you can as usually request payouts. Now there is no need for you to contact DC support if you want to cancel your payout. You are able to do it here.
You can leave brief-related comments to your Contest Holder. Such comments are aimed on asking some details and clarifications concerning brief requirements.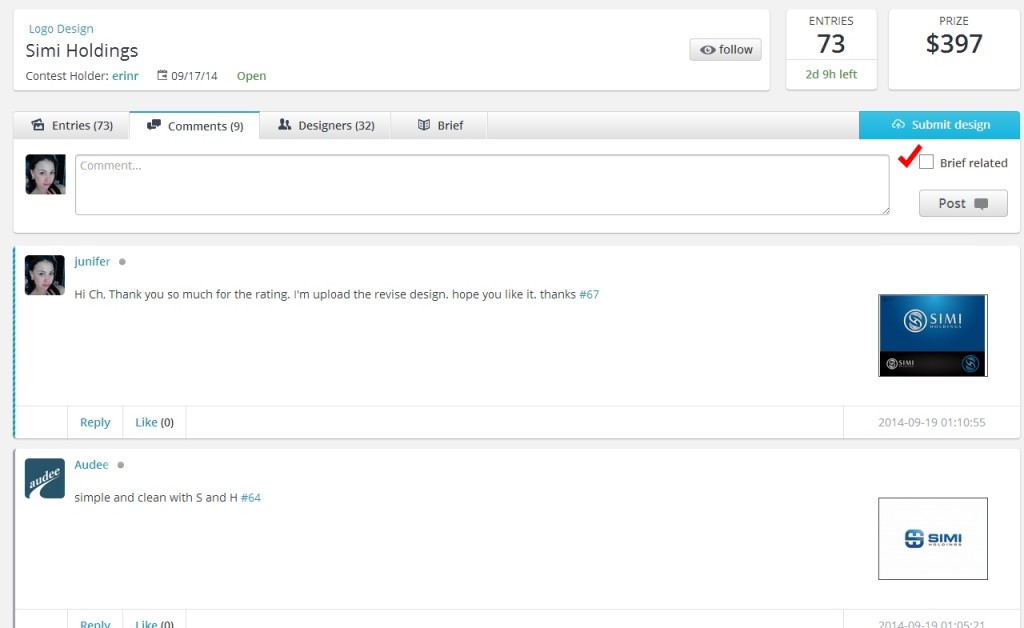 We have also improved your Public Portfolio. Now you can add your own Tabs to your public profile, upload your designs outside of DC and control which design entries are available in your profile.

Contest list was also improved. We have added useful filters and sorting options.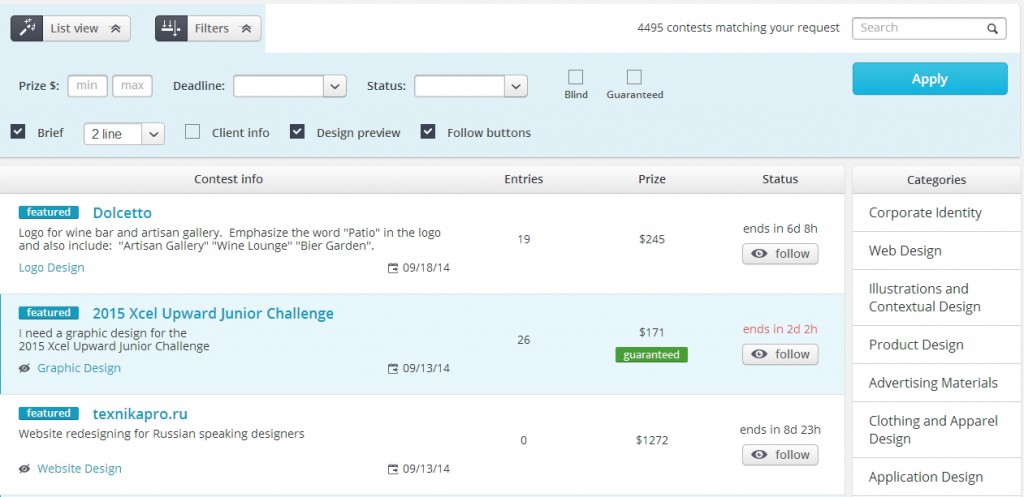 One change in contest finalization process that is necessary for you to know
If you have uploaded source files and Contest Holder requested for some small changes, note that before uploading new sources zip file you have to remove previous one. See the screenshot how you can do it.