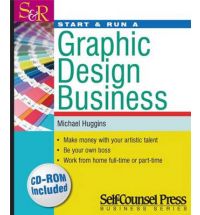 When it comes to quality books regarding the graphic design industry, artists are often left scrambling. Much of the published information about graphic design is hosted online, through blogs, e-zines, and tutorial websites. It's rare to discover a truly focused, useful book about graphic design. However, Start and Run a Graphic Design Business, by author Michael Huggins, published through Self-Counsel Press, is an exception to this. With an impressive amount of tips, practical advice and stories from personal experience the author has written one of the best books about the self-employed graphic design business on the market today!

The book covers a myriad of subjects relating to graphic design, but focuses on running your own business. It can be a frightening experience to start out on your own, even as an experienced graphic designer. Huggins has experienced this first-hand and he shares this with you, the reader, through the book's pages.
From a business standpoint, the book offers several super useful chapters. Part II is the key section on this, including chapters 4 (Setting up Your Business Structure), chapter 5 ( Creating an Identity), and  chapter 6 (Office Location). Particularly interesting to me in chapter 6 was the compare and contrast discussion of working from an office vs working from your house. The author raises some good points regarding the issues associated with both locations. He points out some very valid problems with working from home, including meeting with clients while trying to appear professional and the issue with staying productive despite a "home" environment. His most vivid example of the 'professionalism' issue was having your children running a muck around your home office while you are attempting to establish a connection with a client. Huggins also provides valuable advice on accounting, balancing work and home, along with choosing the best name for your graphic design business.
Also included in Start and Run a Graphic Design Business is an incredibly useful CD for users to peruse. It's jam-packed with info for those budding designers looking to start or solidify their own business. Most of the material on the CD is in the form of PDF documents, including model release, progress checklists, sample contracts, job diary's, docket requests, sample contracts and much more!
Start and Run a Graphic Design Business is one of the best books on the entrepreneurial side of the industry. I strongly recommend that anyone even considering "going solo" give this solid book a shot. Finding the best role for you in graphic design can be difficult, but the info provided in Start and Run a Graphic Design Business will certainly help you decided if a self-employed route is right for you!