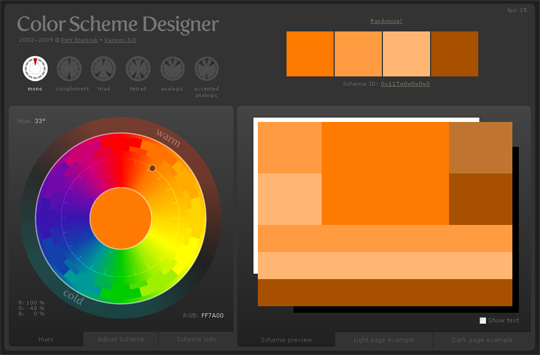 Finding a great color scheme and color palette can pose a problem. Even veteran graphic designers may struggle with this aspect of the design process from time to time. It can be very tricky to come up with quality colors that truly fit and match a particular logo style, tee concept or advertisement theme. Yet, fear not! There are some excellent resources online to help with this part of the process and they should prove quite useful for artists, both the newcomers to the well established designers!
Color Scheme Designer presents the user with a hue circle, full of all the different colors, and subdivided as warm and cold. Just by clicking on it, you can see a suggested set of color schemes. Then, by editing the 'adjust scheme' option, you can come across some really outstanding versions of the selected color. I was really impressed with the ease of color combo creation with Color Scheme Designer and I suggest you give it a try today!
No discussion of color palettes would be complete without including ColourLovers. It's one of the best established color theory and palette websites for designers all across the globe. There are countless different patterns and schemes on this fantastic design website, created by its many, many users. It's a must-check-out website for anyone interested in the top color palettes.
Interested in seeing what a software color matching program can do for your design work? How about one that utilizes color theory to create and then layer them on real life examples? If so, then check out the Color Wheel Pro program. It's a pretty interesting computer program that actually works well for design! If you are hesitant to drop $39.95 on the full version, consider trying the trial version for free today!
In a similar vein to ColorLovers is Color Combos. It's an excellent website with a load of different schemes and palettes to choose from. You will have a hard time running out of different design colors with this free resource. They also have a nice smattering of useful articles about color theory and picking the right colors for your work. Also, one of the most useful tools available with this cool program is the Color Combo Maker. Give it a shot to create your own truly unique color combos for your work!
Need a quick selection of different color schemes to browse? Try ColorSchemer, with its excellent color scheme selection gallery. Also included at this nice graphic design website is a Color Scheme Studio 2 for PC, an excellent program for designers to make their own schemes!