Creating a great color palette can be one of the more challenging parts of the design process. What colors will work well together? How do you know what colors to make primary and secondary in the design outline? How do you create the right feel?
That's where Adobe's Kuler comes in. The color picker tool is a must-have for designers of all levels. It allows you to create a great color palette and look at colors combined by other users.
Best of all, you don't have to know a whole lot about color to get started. (Learn more about the lingo of color.) But the more you know, the more useful this tool will be.
Here's everything you need to know about Adobe's Kuler.
What it does
Kuler allows users to create a palette based on a number of schemes – analogous, monochromatic, triad, complementary, compound, shades or custom – with a fun interactive color wheel. Each palette is based on five colors, although you don't have to use that many, that match visually on the screen.
Make your color selections and Adobe does the rest, providing color values for print and web on screen and in a savable format.
Users can make palettes private or public and get feedback on-site from the Adobe user community.
The tool is valuable for creating a color palette. It works especially well for generating colors to match something you already know, such as the color in a logo, to other elements. It is also a good place to stop and let the creative juices flow as a source of inspiration.
The user interface is simple and works like you would expect from an Adobe product.
Coming later in the spring is the Kuler iPhone app (slated for June) so you can work on the go.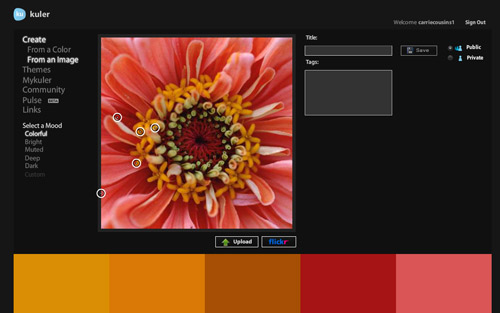 Best features
Create a color palette from an image: Inspired by a photo? Upload the image and Kuler will automatically create a palette.
Palette options galore: Choose from a wide number of palette options to create something that includes one color and shades or multiple color choices.
Quick change: Every color – even after added to a palette – is visually editable.
Switch base colors with one click: See a color that is more appealing than your base color? Make it the new base of your palette with just a click and all the other colors change to match.
Color values: Kuler shows color values for every chosen color in HSV, RGB, CMYK, LAB and HEX.
Cloud sync: For Creative Cloud users, Kuler syncs with Adobe software.
Pitfalls
Some of the sharing features make it easy to "steal" palettes created by others.
Palette are generated by a computer, not a person, so color combinations and mixes are not always perfect.
Removing and adding colors to the palette is a little awkward.
Fun Palettes
Blue Abstract Background


Golden Pheasant


Roller Girl


Shops by the Pavement


Blou Sky Buttered


Pricing
Kuler is free to use although you do need to log in with your Adobe ID for access to all of the features.
Check it out
https://kuler.adobe.com/ or @Adobe on Twitter
Kuler is a product of Adobe and is free to customers.