In March, we decided to tell you about one of our most active and talented designers on designcontest.com. You may know her by Lizonil who has won 75 golden medals so far (!) but her real name is Elizabeth Anderson and she lives in the charming United Kingdom.
After just one communication with Elizabeth it becomes clear why the designs all the designs she creates are so captivating and appealing: they reflect her true nature. This person is comprehensive and  inspiring. Not only her tiny graphic masterpieces but also her motivating answers can inspire you for sure.

Elizabeth, among your skills mentioned in your profile on designcontest.com there are different spheres of graphic design (e.g. designing logos, business cards, T-shirts etc.). Is there any graphic design sphere you enjoy dealing with the most?
I mostly enjoy illustrating and creating T-Shirts designs, I do love creating logos, especially organic logos, logos that involve animals or children.
What is your least favorite thing in graphic design?
Preparing all the print files or final source files, It takes a long time and the creating part is over. I am usually second guessing what the client might need and therefore try to upload every kind of final file… way beyond just the vectors.
Your design ideas are really entertaining and engaging. Are there any works you're particularly proud of?
The strange thing is, I really quite like some that were eliminated! But if I had to choose a favorite I would say it was a one on one designing graphic elements for an online game a man created for his wife's 40th birthday, called Scavenger Hunt.  It was a lot of fun. Especially the picnic and the bottle of wine. I design cups for a company in Zurich, I did one covered in happy monster faces that you could color in. I have one of them here sitting on my desk filled with pens.

You have a stunning tattoo design in your portfolio. Do you often do tattoo designs? Was this one done for someone you know? Â 
This was for a friend of mine, she wanted two women embracing in a tribal style.  I haven't created any more yet but I am working on a matching tattoo for me and my 3 brothers, which will incorporate some of my mother's ashes.  I want it to look like a small round stamp just containing numbers and letters which will be the birth date and day my mother passed away, plus my birth date, and then obviously each brother will have their own birth dates on theirs.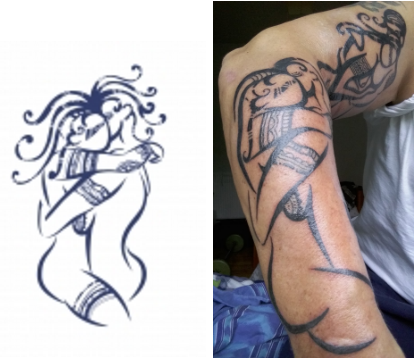 Have you ever experienced times when deadline terms are pressing you but your inspiration has left you? If yes, what do you do to get your Muse back?
Yes I have once or twice. I usually turn my laptop off, take my dogs for a walk, get out my drawing pad and start sketching something completely different… sometimes read a bit of a book.  That usually works.
Did you always want to become a graphic designer? If you didn't become one, who would you be then?
I always wanted to be an illustrator or a graphic designer, I have been drawing since I could hold a pencil, and dreamt of illustrating children's books. I have illustrated a book for a charity in the USA that re-homes dogs.  If I hadn't become a designer I think I might have tried to my hand at writing!!
In your profile, you mentioned you worked in Spain, the USA, Bhutan, Israel and the UK. Which country do you think gives the most freedom and possibilities for a graphic designer?
Well to be honest, you could work anywhere, as even now in the UK my clients are all over the world, so it is not the country that gives you freedom but the client.  As long as you have wifi.  I would say though, that I felt the most inspired in Bhutan… to be surrounded by so much beauty and the people are so happy… it just makes you feel extremely creative. (pic below of my daughter… the first western girl to be born in Bhutan).
What was the weirdest situation you had with your client?
When one of the Contest Holders turned up at my doorstep! That was strange, especially as he was from the USA! Â 
I just love your prints on the T-shirts. Do you have a favorite one you're ready to wear all the time?
Yes I love the Stand Up Paddle designs, I actually sent off for one and wore it on holiday!  I love Operhals T-Shirt designs, I have 3 of hers… and I wear them all the time!
Can you reveal your secret of becoming so successful in DesignContest?
I attribute my success in DesignContest to a few things: professionalism and knowing your stuff regarding vectors and graphics is pretty obvious, have the 'human touch', always keep your mood light and friendly, try to see things from the CH's viewpoint. Do lots of research on their brand and/or their market area. Â Try to bring in something a little bit different to what is already out there. Don't copy the other designers, try to create something very different. Â Become friends with the other designers too, they are a great help, very supportive and inspirational. Â I have many clients referred to me from the other designers, and I have referred clients to other designers too, especially websites, or styles that aren't really me, or if I am short on time. Â Try to keep the CH happy… : )
What is the biggest project in graphic design you'd like to have in the future?
I would love to illustrate a book for children, that would be something. I have written a short book but I never have the time to sit and design for it… one day I guess I will.

Hope you also got motivated by Elizabeth's answers. We appreciate each and every designer working with DC for you are the most talented ones, that's why we want you to be a sparkle of inspiration for others. Stay active and our next post will be devoted to you!