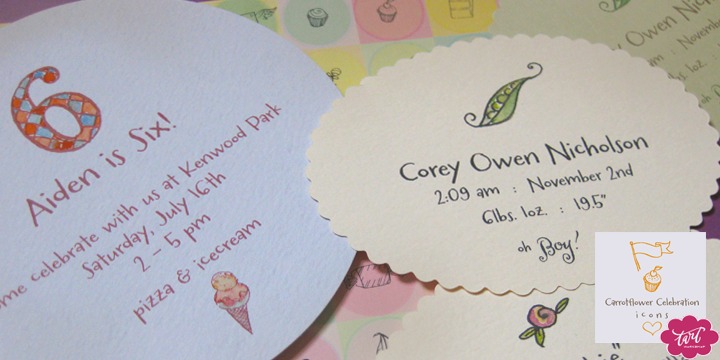 Once again, Veer has produced a phenomenally fun font collection. Their June fonts are full of life, perfect for use in a huge variety of logo and graphic design needs. While the full collection contains a wider variety of fonts, there are several in the June collection that stand out above their peers by sheer virtue of their uniqueness. Check out these great fonts as potential additions to your collection. Perfect for summertime needs (children's art, weddings, vintage-throwback designs, etc), these fonts will definitely come in handy this season.
Carrotflower: A perfect font for all your child-friendly  graphic design needs, Carrotflower looks like it could easily be at home in a nursery or on a baby shower invitation. Fun and friendly, this little font pattern is of medium thickness with irregular slanting of various letters, and for anyone who really loves this childish font, then there are also three icon sets (two of which are holiday-focused) which can be easily used with this font. Looking forward to the fall, Carrotflower would also be the perfect font to use when designing any posters for elementary schools.
Alana: If there's any font perfect for all of your wedding typography needs, then Alana is it. Slightly italicized and swirly, this little font is sure to please any bride-to-be. While its letters are lovely to look at, they definitely aren't distracting—an ideal fit for any wedding typography choices. Available in both bold and regular, Alana will look wonderful gracing any wedding program, whether it is meant to be a modern, classy, or retro-themed event.
Filmotype Giant Family: A quick glance at this font set will instantly have you imagining all the fun vintage-styled graphics you can create. Giant Family's straight-lettered type speaks clearly; bordering more on the thick-side-of-thin, this font is fairly chunky compared to others of its style. However, this unique thickness is perfect for conjuring up images of old-fashioned style soda fountain advertisements, and this font is definitely ideal for fulfilling a variety of summery vintage-themed graphic needs.
Graham Cracker JF: Large, bold, and friendly, this is a great font for child-themed works that are of an older nature than Carrotflower's. This easy to read script acts as a wonderful attention-grabber, and although it's thick width will not allow for a large number of words to be printed in any given amount of space, most child-focused graphic designs do not utilize long paragraphs of words anyways.