Today we had the pleasure of conversing with Charlotte Batson, one of our clients and a frequent user of our platform. Charlotte has successfully launched and completed several contests and 1-on-1 projects with DesignContest. She has kindly agreed to share her experience; expectations, first impressions and results from working with us.
Charlotte Batson is a petroleum engineer and an internationally-recognized expert on shale oil and gas as well as the principles of continuous improvement. She is the owner of Batson & Company, a consultancy that understands that the future of the oil industry lies in innovation; reducing costs which helps private and public sector clients enter or expand their reach in the oil sector.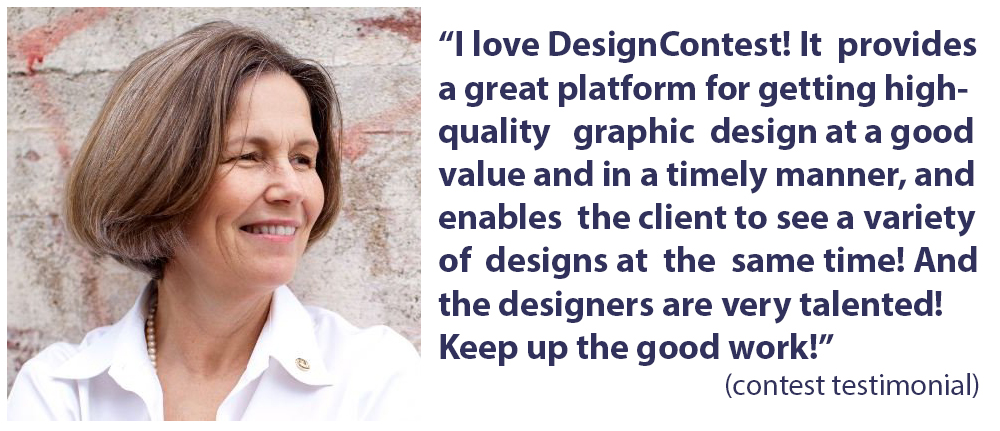 Was it easy to start your first contest on our platform?
It was. I think there was something about the process that I didn't understand at first but it wasn't anything serious. The process was straightforward, technically speaking. I didn't really have a concept of what it was going to be like, but yes, it was easy to get started. I think the main questions were about how much to pay, how to do all the settings; let designers see designs of each other and so on. Basically, I took your recomendations in most cases and I was very happy with the results
Did you enjoy the process of requesting changes? Did you feel that this process was too long?
The process of requesting changes was very interesting. It is so good that so many designers responded. Some designers were more open to the idea of making changes. I was really impressed of the variety of designs I got and that had met my criteria that I set out in the proposal. I enjoyed the process. A couple of times it was difficult to express what I wanted. For instance, when a designer does what you ask but it doesn't come out like you thought it would.
I didn't feel that the process was too long. I knew that I was going to use the design as a part of my business. For me, it was not an instantaneous kind of decision so I stretched it out because I wanted the process to take a couple of weeks. I am the only person in my business and the logo is an expression of me, so I really needed time to get a logo I can live with for a long period of time. I needed a little more time. I originally set it for two weeks and then extended the deadline for another week.
I guess you had some logo in mind before starting the contest. Is your winning logo close to what you've envisioned?
It was a new logo for me and I knew that I would like some iconic kind of symbol, initial letter or something like that. I was thinking of a possibility of the initial 'B' to be separated for thumbnails. All the rest was up to the designer.
I have not actually thought if the winning logo is what I was waiting for, but it is perfect for me, it fits my business and it encompasses everything I had in my mind.
Was it difficult to pick the winner? Did you feel hesitant?
Actually at the very end there were two very very good designs and I really had difficulties choosing between the two, so I ended up with purchasing both. The design that I am actually using is my silver winner. It was one of the first designs I received and I loved it the whole time. At the very end I got that second design and thought "Gosh! I love this design too!". So it was a tough decision for me. I took several days after the contest was over just to decide which one I was going to use.
What about the gold medal winner?
I am not using it at the present moment. I have it as a spare, as a backup in case I want to do some rebranding, but for now I am happy with the one I am using.
Did your logo help your business in some way?

 
I have got several complements on it. And I think it is a benefit in having a cohesive brand, cohesive look for my business card and materials. As far as how that translates in a dollar value or number of hits on the website – I can't tell you the exact numbers but I feel it really helped me to present my business and myself professionally. It gave me a destinctive look; I have it embroidered on clothing, I have it on business cards and the PowerPoint background.
Besides the logo contest, you've launched a PowerPoint design contest as well. Was it the same experience or do the other design categories require a different approach?
For the PowerPoint contest it was a very different experience. This contest was a little bit challenging because this was the first contest that a winning designer had ever participated in. It was good that the support manager Sharie was of great help in educating the designer…  you know… the format of the needed files, some mechanics of the contest that the designer wasn't familiar with.
Why did you choose one-on-one project instead of a contest for your business card design?
Since I wanted to make something very similar to my PowerPoint design, it didn't make sense to have a contest. That was my second one-on-one project. The first one was for tweaking my logo a little bit. So I realized a difference between the contest and one-on-one project.
PPT design is about branding, company identity. What is the most important aspect in terms of a brand identity in your industry?
That's a good question! I am in the oil and gas industry and I wanted to stand out. Almost every oil industry logo has something about an oil drop, gas flame or drilling rig and I wanted to still have that symbolism but still stand out. My business is unique, I am unique.
Within an industry it is important to have a strong brand to be able to stand in one line with big and recognisable companies.
My logo is exactly what I was looking for and it is really simple and easily reproducible in a variety of ways. It can be embroidered on a baseball cap and other clothing.  That is great for branding.
Do you think redesigning logos from time to time for companies in your industry is normal/necessary? How often should companies refresh a design?
I think probably every 3-5 years, since the business changes, industry changes. Current environment is completely different from what we had several years ago. Â 
I have a second business that actually needs some logo refresh. I used it on website and business cards  but for now I want to have it on t-shirts and somewhere else to be up-to-date.  So I need to adjust it to my current needs and environment.
Are you going to continue using DesignContest?
I am thinking about doing a WordPress theme design through your website. It was really enormously helpful. I've had challenges working with graphic designers in the past. So I really enjoyed having a chance to look at different designs, I thought it was brilliant.
                  Designed by renmaryutoc                                               Designed by nicolets                                             Designed by renmaryutoc
___________________________________________________________
From the DC team: We would like to express our gratitude to Charlotte Batson for the opportunity to showcase the work on our platform on behalf of a direct customer.