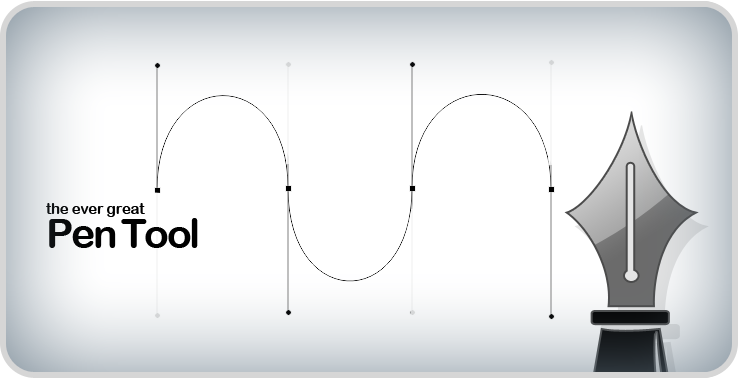 Adobe Photoshop can be an incredibly intimidating program to learn, even for seasoned computer users. Its huge array of features, myriad of functionalities and overwhelming amounts of tools to use. Still, even the trickiest Photoshop techniques can often be learned with time and patience. Of course, it's best to start with learning some of the more basics tools for Photoshop before diving right in to a massive project or complicated photo effect.
For starters, let us take a look at the Pen tool in Photoshop. It's a very basic yet important tool that you will use over and over again with this program from Adobe. Basically, it is a tool which you can make virtually perfectly straight or curved lines with. Instead of 'drawing' (dragging your pointer to sketch on screen), you click to add 'anchor' points along the curve or length of the line you want. Then, you can either use these points to make a selection, or, as is commonly done, turn it into a pen stroke path. Users can adjust the width of the stroke path and the color through the Photoshop options. It's a wonderful tool, perfect for turning rough lineart into graphic design masterpieces, and much more!
If my little description of the Pen tool in Photoshop left you a little confused, try your hand at several popular tutorials for this function. First on my list is the wonderful DeviantArt-hosted tutorial by Jo-Z, linked here. It's very clear and quite easy to follow. The artist shows how to take a rough sketch and use the pen tool to turn it into a finalized image in Photoshop.  As one commenter states, it's an especially important tool for artists who don't have tablets!  For another excellent intro to the pen tool, try out Tutorial9's great pen tutorial. It's a little more in depth than the previously-mentioned DA one, but both are sure to help in increasing your understanding of this tool. This one also shows how to use the tool to create filled shapes, another useful feature of the pen tool.
Finally, if you prefer video tutorials for leanring Photoshop, let me point you to two excellent YouTube Pen Tool Photoshop tutes. First is this one, at almost 10 minutes. It's fairly comprehensive and provides some excellent pointers for using the tool.  Second is Taunt.com's fun-filled YouTube tutorial on the pen tool.  It's a little shorter, at around 6 minutes, but is still super good.  Be sure to have Photoshop up and running when watching these tutorials and use the pause button to get the most information, when you need it!