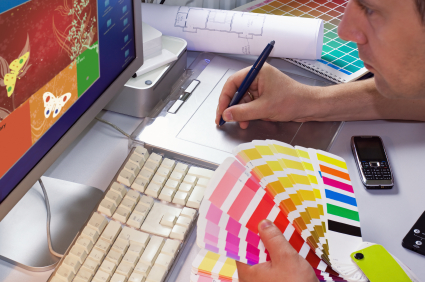 Being able to produce attractive logos using different themes for services, companies and groups is a must-have skill for any graphics designer. Many companies post on DesignContest looking for skilled designers to such projects. While many logos appear simple at first, being able to consistently come up with quality and innovative designs is essential to the logo design process and requires constant work.
If you are completely new to the whole logo design side of graphic design, jump over to TutsPlus and read this informative article. It is one of the more in-depth graphic design articles on their website and it covers the main points of logo design. Be sure to note the section on "Pencil nad Paper" (Basics of Logo Design). Here, the author points just how important initial sketches and WIPS (works in progress images) are for generating and establishing logo concepts. After that, it's time to jump over to your choice logo design program (Adobe Illustrator is the most popular program for such work, although Inkscape works as well).
There are many great tutorials on the overall process of logo design, from concept to finished product, available online. One of my favorite ones is from designer Mark Misenheimer, of Misenheimer Creative, Inc. Check out this write-up at AllGraphicDesign, here. In this well-written article, Misenheimer discusses the steps involved in creating a swell logo for a client, in this case for a church. It's eye-opening to see the different steps involved in the overall process, and the importance of prelimary images (used to show the client possible designs).
Another excellent "start-to-finish" tutorial on logo design may be found over at DryIcons. The author takes you through the initial sketch WIPs of a logo and all the way to the final image. He uses a sweet "punch" fist design as the example image. It's a relatively straight forward tutorial and has some wonderful tips for  budding designers.
Part of selling a logo design to a prospective client is an attractive presentation. There are many ways to do this, but one of the best is to show it off as if it actually printed. If this sounds confusing, peruse Nunosk8's excellent DeviantArt tutorial on how he presents logos using this technique. You'll need to be relatively with Photoshop to tackle this one, but the image-heavy tutorial is an excellent way to start on this process!
Finally, when you are comfortable with many of the aspects of logo design, try your hand at re-creating one of the more recognizable logos available online, the Sony-Ericcson logo. Good luck with your future logo designs!