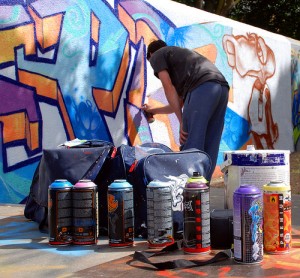 Although graffiti is generally frowned upon and not considered an art,  at times, if done right, it can come across as inspiring and artistic. Whether it is displayed in a neglected alley, dilapidated building complex, or an abandoned train, graffiti adds some spunk to what can be deemed as objects and locations of neglect. It can also be a source of inspiration and idea for graphic design projects and templates. Here are a few interesting blogs that focus on graffiti art.
This website features graffiti art from all over the world. With its simple selection and navigation, you can choose to see graffiti art centered from different continents. Not only are their entries and posts that feature random graffiti art discovered nationally and internationally, but they also run articles on graffiti styled typography that can be very useful for your own graphic design layouts. They also feature interviews, editorials, and videos all related to and contributing to the graffiti arts world.
Although not as detailed and eye-catching as FatCap, this website still offers a plethora of information and imagery related to graffiti arts. It is also more interactive, with update comments and graffiti crew "additions", this is a great place for artists to join and relate and get in touch with other graffiti and graphic artists.  There is also a blog reel featuring the latest blog posts and updates from other graffiti related blogs. In addition they also feature the latest news, events, interviews, and featured artists.
The title of the blog says it all. This simple blog features random everyday pictures and snapshots of graffiti found on trains, whether abandoned or still in service. Wanting your daily graffiti arts fix? This is the site to go, where you don't have to fiddle your way through several links to get to an online gallery of graffiti art. You can view several images here, with one simple click. You can also receive notifications of blog updates by following them via Google Friends, or via other social networks such as Facebook and Twitter.
Although sparser in detail that the rest of the blogs, this blog features graffiti related articles that do truly inspire. From tagging, to apparel design, to sidewalk art, and even to pixel art, all showcase the uniqueness and creativity and graffiti art. Whether or not you choose to incorporate an idea into one of your projects, this site is still great for reading and expanding your knowledge of graphic arts horizons.