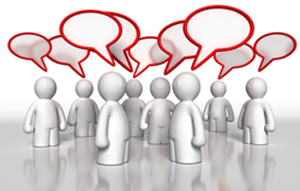 As more and more graphic designers turn to crowd sourcing websites to seek employment opportunities, it is becoming more and more difficult to make oneself stand out from the crowd (pun intended!). Additionally, finding a job through crowd sourcing websites can be fairly difficult if you don't wish to get paid pennies for your work. Since many graphic designers are now hailing from countries where the cost of living is relatively low priced, the average price of a job bid on many crowd sourcing sites has taken a drastic dive in recent months, largely due to these people who are willing to work for very low costs.  Because of this, it can be difficult (to say the least) to really successfully employ yourself as a freelancing graphic designer.
Fortunately there are still ways to make oneself stand out above the rest—resulting in higher paid projects and a more consistent work flow. The keys to successfully marketing yourself can boil down to two items: your resume and your cover letter.
Resume: Make sure that your resume accurately represents all of the graphic design-related work you have ever done. This should start with a listing for your credentials (graduated from where, when, what degree, etc) and continue on to briefly outline all of your graphic design projects completed to date. A graphic designer's resume can also include a section where the programs or coding languages that the designer is prolific in are listed; this inclusion can further explain your own talents and abilities, allowing you to stand out from others in your same field. Finally, be sure to include at least a couple of references at the very end of your resume; these should be either former graphic design employers or university professors who can attest to the quality and creativity of your work.
Cover Letter: This is where you can guarantee that you stand out as an exceptionally great graphic designer. Your cover letter for your work application should include several sentences that mention some of the highlights later listed in more detail in your resume, as well as place a strong emphasis on the experience and qualifications you have as a designer. Be sure to include your ability to always complete work within a pre-determined time frame. Focus on strongly promoting yourself as both creative and reliable. It is crucial that you have impeccably flawless grammar in your cover letter; many potential employers feel negatively towards applicants with less than perfect grammar and being careful in your cover letter can be the difference between and positive or negative impression on an employer.
As you put yourself out there for jobs through the crowd sourcing option, be sure to keep these points in mind.