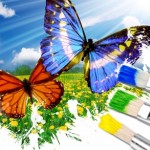 Do you need some outstanding Adobe Photoshops brushes for a nature-themed project? Look no farther than these top ten free nature brush sets. Some of these will also work with Gimp, a free and popular alternative to Adobe Photoshop. Pick your favorites and download them today!
Trees
Complete Tree Brush Pack
Need many different kinds of trees for Photoshop brush projects? Than take a look at this wonderful collection of natural tree brushes, with a whopping 40 available for you to peruse from.

Coconut Tree Brush
Everyone needs to make a tropical themed flyer or project from time to time. The Coconut Tree Brush is perfect for this, especially if you are looking for silhouette style art brushes.
Creepy Tree Brush
Have a Halloween, murder mystery or other suitably scary-themed project in the works? Consider grabbing the Creepy Tree Brush pack, sure to look smashing next to a deserted mansion or other scare house. The trees are bare, gnarled and quite foreboding, definitely a high-quality set!
Flower Tree
While this excellent brush set is more of a floral take on trees, it's still worth noting and certainly provides some nice variety.
Bamboo Brushes
Fancy a little panda artwork? Need something to spice up your Far East Movement poster? Check out the creative Bamboo Brushes, with 29 different brush images, for free, at Brusheezy

HighResTree Brushes
For those Photoshop artists looking for detailed, high resolution tree brush graphics, this brush set is perfect. It has 30 different tree brushes, all of different kinds, sure to work for many projects.
Floral

China Dream
China Dream is a wonderful set of Asian-themed flowers, perfect for a wide variety of projects. The brushes are quite realistic, not silhouette style, and very detailed. Grab them for free today!

Floral Brushes
With 8 large floral brushes and 7 smaller ones, this brush pack, at DeviantArt, is a must-have collection. It has a softer theme, almost like a painting and looks quite nice.
Grass
Ultimate Grass Brush Set
Ultimate Grass Brush set offers 50 different grass brushes and looks super realistic. It's definitely one of the better grass brush sets available for those needing both realism and variety. Grab for them for use to make all sorts of excellent, nature backgrounds with Photoshop.
Grass Brush by SweetCandyDreams
This grass brush set is for more light and less 'realistic' projects than the Ultimate Grass Brush Set. It's also free and available through DeviantArt.com, with two unique brushes for grass.