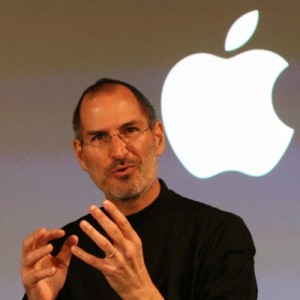 Apple's been in the news a lot lately, what with the release of the iPhone 4S, as well as the death of its legendary head of state, Steve Jobs. We're unbelievably saddened to hear about the latter, and with the big man himself in mind, we've compiled some quick reflections on what makes Apple's designs so good, as well as what you can do to learn from them. You don't have to be a Macintosh fan to get a good woodshedding out of the multi-billion dollar company, and we aim to show you exactly how they managed to get so big with only a few design principles.
We've got no more chatter on the mic, so stick with us as we jump straight into number one, with:
Design is King . . . No Really: The first lesson a graphic designer can take away from everyone's favorite Cupertino company is that design is absolutely monstrous in the modern day and age. No matter what target demographic you're trying to hook, it's a fair bet they're very well versed with modern graphics, and whether they know it or not, likely have high expectations for all the designs they're subjected to on a daily basis. For example, with everyone using an iPhone—as well as the killer apps that come with it—it's no wonder that consumers will start to expect better design from every aspect of their technological life. In other words, modern audiences expect perfect design, so don't disappoint—or else.
Clients Pay Well When Paying Goes Well: That subheading likely seems cryptic, so we'll give a quick explanation: Apple is a great example of the fact that consumers are willing to pay more when they know they're getting the absolute highest quality around. This isn't necessarily elitism, it just shows that your clients aren't afraid to shell out a bit more if they know they're getting the absolute best.
Be Disciplined, Young Skywalker: Apple, and especially Steve Jobs himself, is well known for running a very tight ship. Considering the company's success, working with constant self-evaluation, grit, and determination is hard to argue with. To emulate Apple, simply stay on your toes every day you work, judging as objectively as possible the quality of your own designs. If you feel you're lacking in any area, strive to succeed there in later projects. Take classes, read books, and in everything you do, keep your head down and your pecker up.