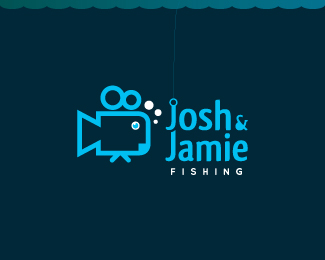 Being able to design excellent logos that convey the meaning and significance of a brand, corporation or organization is an important part of many graphics designer's work. Logos can be excellent or subpar and it is up to the graphic design artist to figure out exactly what works best. While it may seem intimidating at first to design a "stellar" logo, take note of the following examples and tips and you'll be creating excellent logos in no time!
Let's compare two different logos, one from a massive, well-recognized corporation, and another from a smaller, less well-known organization. I'll use the sport of fishing for this comparison. Bass Pro Shops is an internationally popular brand with gigantic mega stores for fishing equipment situated across the United States. Their logo, of a leaping largemouth bass is a mainstay of fishing logos.  Anglers, even non-bass guys, recognize this logo. Still, I think the recognition of their logo is more in part due to their success as a company and not necessarily due to excellent in logo design. It's a fine design, rather vintage in style, but not exactly stellar. Sure, it shows a leaping fish, but it doesn't really do much more than that.
For the latter example, we'll take Josh and Jamie Fishing as an example. This group is a small duo that sells videos of their fishing adventures, based out of Australia. While they may not sell as many products as the massive Bass Pro Shops, Josh and Jamie Fishing still have selling power partly thanks to their solid logo. In fact, I actually like the Josh and Jamie logo even better than the older Bass Pro Shops logo. It's very minimalist and clear cut; clever with an excellent blend of a fish and a video camera, showing off exactly what they are all about. In fact, even before I learned what Josh and Jamie Fishing was, I had a decent idea, thanks to their excellent logo. It's definitely an excellent example of  stellar logo design in the realm of angling.
Be sure not to underestimate the importance of a quality color palette for your work. Some logos call for a bright, memorable and cheery set of colors, while others need a much darker and more serious palette. Either way, colors can make or break a good logo. If you are having a hard time choosing a good set of colors for your logo palette, consider visiting the lovely ColourLovers website. Here, users can upload and showcase their favorite palettes for everyone to see. There are literally thousands of different palettes on this stellar graphic design website and it is a great resource for designers everywhere!
Placement is key when it comes to logo design. Sure, you might have a creative concept, but if you can't effectively place the logo in a manner to best convey the meaning behind it, you are sunk. Even wild Photoshop skills won't help with this; instead, you will need an eye for graphics placement to get the best results. For a short smattering of different kinds of placements of logos, read (and visit the included links) this excellent summary by AlecRios.
Finally, don't be afraid to experiment. A good designers is able to produce different types of logos, for an array of different brands. Practice, practice, practice and you'll be able to start making excellent logos with ease!