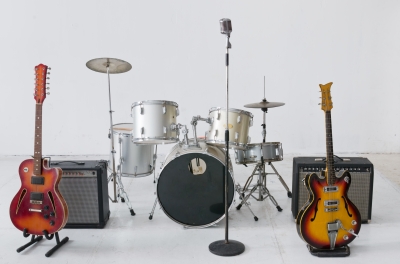 Here at the blog we tend to talk an awful lot about how great it is to work with creative types, meeting their design needs. This is for a number of reasons, but most of all, it's because these kinds of projects are simply more fun to be involved with. On that note, if you're looking to expand your rather rigidly corporate freelancing business into the wild, wide world of music, then you've come to the right place!
Go to Shows: Above all, one of the best things you can possibly do to reach your goals (if your goal is to gather up some musicians for your client list) is to go to shows. Meet the band members, listen to the music, and network with the fans. If you know someone who can get you backstage, that's even better. Chat with the group and just let them know what you do. Band's are always in need of illustrations and design, so if you give them your profession and leave it at that, odds are they'll come up with some use for you.
Become a Musician: Now, we realize that not all of us can pick up a guitar and learn it solely for the purpose of spreading their design business. We aren't saying you should do that, by the way. However, if you already know how to play an instrument—and have some previous gigging experience—why not get out there and start playing your own music? This gives you an opportunity to have some fun, meet some other bands, and even create some designs for yourself. Not only that, but if you can hook up with the right crowd and the right network, you'll be known as that guy. You know, the guy that can play a mean synth solo, but can also whip up some incredibly impressive album art at the drop of a hat. Be cool about it, and be ready to start having more fun than you have in a while.