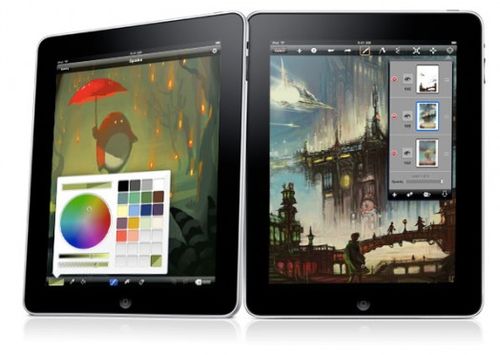 Looking for interactive and virtual tools to assist you with your classroom lessons? Want to make your lectures a tad more interesting with the help of up to date visual aids? Here are some apps that you install on your Apple device and utilize in the educational setting for yours and your students' benefit.
3D Gallery
With this app you can be a curator of your own museum.  You are given the options of rearranging the paintings or choosing your own images from a designated photo gallery in a three dimensional like setting.  When teaching a specific time period or art genre, you can use this app to display various works that focus on that particular subject. Although there is not a "Save" function, you can still click your on/off button simultaneously with the menu button which will create a screenshot and will save the photos on the camera roll. This app retails for $4.99 in the iTunes apps store.
Color Splash
This app provides teachers the ability to instruct their lessons with additional emphasis. Artwork and photos can be displayed in monochromatic tones with the preferred details still enhanced with full color.  Your students' attention will be drawn to the colored areas, creating an instant point of contact. This app is relatively simple to use. Just use your finger as a brush to color the desired sections of your image or to bring back to its original color. You can also zoom in and out to get a better grasp of specific details. There is also a video tutorial to assist you in the process. This app retails for $0.99 in the iTunes apps store.
Open Culture
This app gives you immediate access to audio and video podcasts from well known art museums. Have art collections with you on the go and at the touch of your fingertips to provide additional detail and information to your lectures/lessons. Note that this app works with WiFi and opens in all native iPhone software. The best part of this app is that it is free of charge.
Painters
This app gives instant access to a large collection of artists with detailed information about their works and their life. Additional details such as painting dates, current museum locations, and work dimensions are also featured. Artists can be searched alphabetically, time frame, or by nationality. The gallery can also be configured in other languages such as languages Dutch, French, German, and Spanish. Not only is this app great for teaching in the classroom, but it also very useful in research. This app retails for $1.99 in the iTunes apps store.