Do you ever notice that some websites have a much "richer" search results that others?
Not only do you get an article or website that matches your search by topic, but you can also see additional information such as photos or text. Google Rich Snippets make this happen.
This powerful tool is easy-to-use, available to anyone with a Google account and can provide a big search engine optimization boost to your website as well.
What it does
Google Rich Snippets take relevant information from your website and add it to Google search listings. This information can include anything from a thumbnail-sized photo to ratings to author information to a description of the content on your site. (You can see above that a search for Design Contest brings up rich snippets for this site – one that describes what the site is and another from a recent post to this blog.)
Google will create snippets from the following types of content:
Reviews
People
Products
Businesses or organized groups
Recipes
Events
Music
Video content
A new category may be coming soon as well. Google may soon add "in-depth articles," according to industry blog Search Engine Land.
Google uses certain markup (microdata, microformats or RDFa) from your page to create the snippets. So you have to optimize your site first.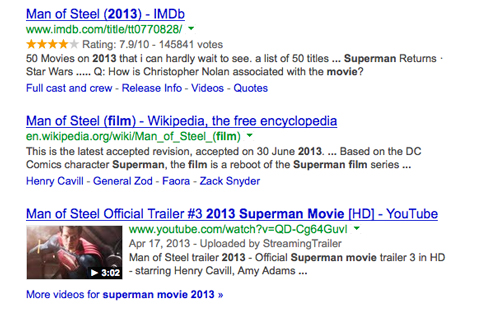 By adding information to search listings, you can drive more traffic to your site and boost SEO (yes, they go hand-in-hand). Look at the search results for the "superman movie" above. Which link are you more likely to click? One with movie ratings, a simple description or a video?
Best features
Google Rich Snippets are easy to use and don't take a lot of work on your part. Plus you get a pretty big bang for your work.
Any tool to boost SEO is a bonus and this is a simple thing any business can do in house at no cost.
Setup is relatively easy and can be done in a few minutes to few hours depending on your website knowledge.
Rich snippets are based on proper site code and tagging. In addition to rich search results, clean code also factors into overall SEO. So if you clean up your code and tagging for rich snippets setup, you are also helping other search engines read your site better as well.
Pitfalls
Rich snippet information is limited to certain categories, so certain types of businesses will benefit more than others.
There is also only so much information that you can control when it comes to setting up and creating rich snippets.
Pricing
Google tools are free to use. But you do need some understanding of the back end of your site. (If you don't have the background, you may want to ask a web professional for help.)
Check it out
Try to drive more traffic to your site using Google Rich Snippets. Login to webmaster tools to get started; set up is easy and you can find instructions from Google.