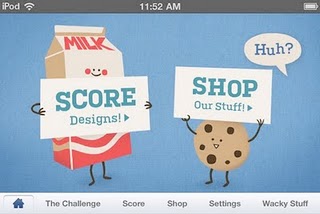 Just about everyone interested in custom graphic design has heard of Threadless, a booming graphic design company primarily focused on customized t-shirt art. Keeping in step with the technology realm, Threadless has released their own app for the iPhone and iPod Touch users out there. A few other artists, whose works have been featured on Threadless, have also come out with their own versions of apps for Threadless as well. Here is an overview of some of the top apps.
Official Threadless App
This free app first presents you with many different options. The first option is "Home" which basically provides links for you to score design submissions and/or browse and shop for tees. The second option is "The Challenge" which shows four screens that offer additional details and information about Threadless and what it has to offer. The nest option is the "Score" page which offers simple choices that enable you to select whether to be notified if the design(s) you have scored eventually become printed. You can even link the scored design(s) to your social network profiles such as Facebook or Twitter. This next option is the "Shop" option where you can buy direct from their online store. Another featured option is the "Wacky Stuff" option. This option allows you to create a sketch of your own T-Shirt or iPhone case design. You can even save it to your own album and email your work. The last two options are the "Festasizer" and the "Threadcams." These cameras allow you to take wacky photos of your face, with particular Threadless designs layered over the photo taken.
Threads App by Ian Marsh
This app was created by Threadless contributing artist Ian Marsh also known as "eeenmachine." This app allows you to easily browse currently in stock and purchase as well. The cool unique feature about this app is that every time you shake your iPhone or iPod Touch you are shown a different shirt design. You can also have the option of saving any design to use as a wallpaper directly to your device by simply selecting the camera icon.
♥s Threadless App by Hung Truong
This free app was also developed by long time Threadless contributing artist, Hung Truong. The primary purpose of this app is to be able to browse the entire Threadless catalog simply and easily, with full view previews of each T-Shirt design. Even really old designs are featured on this app. You also have the option of sharing your most favorite design(s) via your social network profiles such as Facebook and twitter. Also, just like the Threads apps, you can save your favorite design(s) for wallpaper purposes.