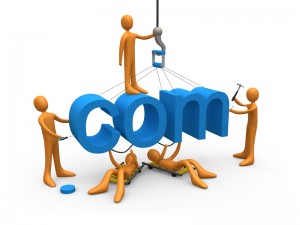 You've spent hours and hours perfecting the top and middle of your new graphic design, but what about the bottom? A design is absolutely nothing without a strong finish, but what do you actually do with all that loose space in the lower half of the page? Believe it or not, footers are a fantastic place to shove all kinds of loose ends. With a little help from these inspirational footer sets, you'll be cranking out wicked end designs in no time:
Stick With A Theme And Pump It
Hopefully you chose a general motif or theme for the rest of your page. If you haven't yet, you might aught to before working on your design's footer, as footers are a brilliant place to stretch out and reinforce your theme. Check out this killer design by Red Tiki, for example. All the stock contact information and about links are present, but the designer also thought to include images that compliment the feel of the previous content. You'll want to leave a lasting impression in your reader's mind, and the footer is the perfect place to do it. When in doubt, keep the tiki out, as I always say.
Keep Readers Updated
Footers are also a great place to keep your readers updated with post, Twitter, and RSS feeds. By the time the average Internaut has reached the bottom of the page, they're hungry for more material. Don't leave them hanging: Throw in a Twitter feed, or a list of recent design posts, as this example has done. By giving your readers somewhere else to go, you create a natural flow and feel for the design that seeps straight into the next bit of content. Link appropriately, and you can even ensure the reader stays on your material alone.
Get Social
This can't be stressed enough: Your footer is rubbish if you don't have at least five hundred social networking buttons. That's an exaggeration, and the rule of thumb isn't always pleasant, but the more social networking integration you're carrying the better. People like to re-blog and the easier you make it for your readers to share your content, the more likely they are to do it. All in all, it ads up to free marketing for you and free fun for them: Sounds like a win-win to us.