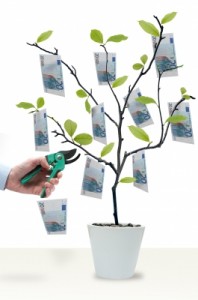 Now, with a title like that you might expect us to be giving you a guide on how to finagle your design client out of a few extra dollars the next time you snooker them in a project. And though we won't be doing that, we will be giving you pointers on how you can make a little more cash with your next completed project. It's not a full proof method, but if you attempt at least a few of these things, you will find some results coming down the pipes. So without further ado, here are our top tips on how to do more and get more with your next client project:
Offer to Host It: If you're creating a website design or redesign for your client, offer to host the blooming thing when all is said and done. This is a simple and effective way to both create a furthered relationship with the client, as well as to make a little bit more money for yourself. You can host the site in-house using a variety of methods, but by and large our favorite is to simply get a reseller account. These are cheap (usually to the tune of $20 a month) and give you a whole lot of client accounts to work with. And if the business really starts to take off, you can always manage and sell your very own hosting company! And that adds up to even more money in the bank, comrades.
Offer to Manage Content: Another way you can make a little more money is to offer to manage the content that you create for the client. Or rather, to fill out the sites and other media that you create with content. Now, this will require a little more skill and effort on your part. You may need to know how to write, for instance, or it may be something more along the lines of needing to know how to create video or illustrated work. Either way, though, if you can provide this kind of continued service for your clients and their projects, it will look very good from the other side of the contract, and you'll be able to make a little bit more money out of the whole ordeal, too. Best of all, it's kind of fun to crate content, at least every now and again!